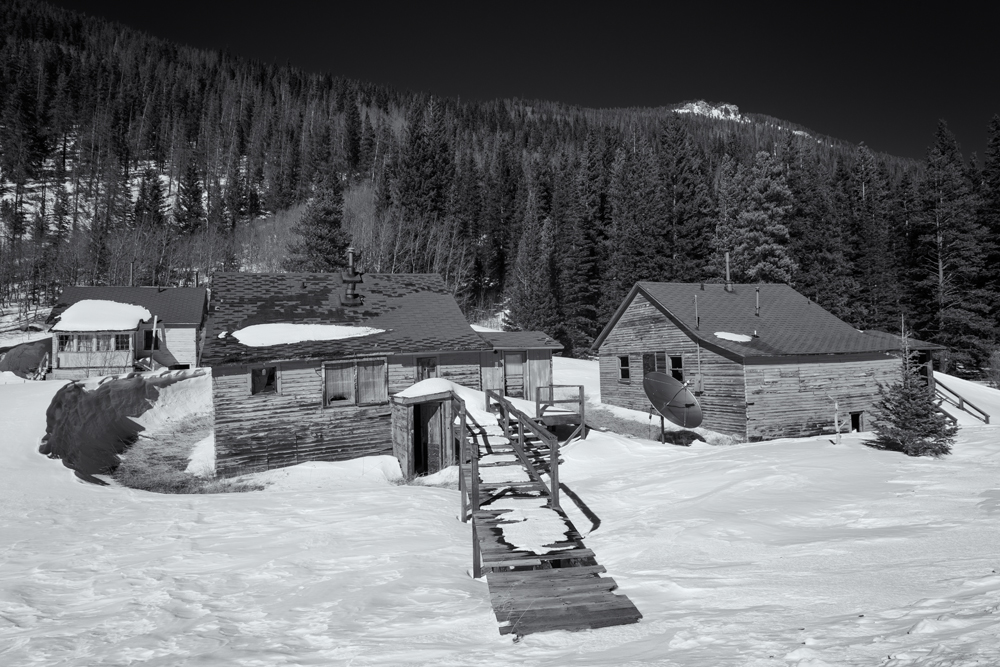 Nearly three years ago, my wife and I visited and photographed this abandoned railroad camp for the first time. It was a strange experience. (Some of you will recognize the place, but I'll leave its location unmentioned anyway.)
First, in the upper house, we found dolls skewered to the wall with kitchen knives.
Second, in this same house, there were still towels folded up in the bathroom…toys, stuffed animals, and posters in the children's rooms…personal photos…clothing…a kitchen with a full complement of utensils, dishes, and such…a refrigerator still stocked with eggs, condiments, and assorted other foodstuffs…knick knacks and towels still on the walls…In short, it was a complete home with all of its homey elements present, even if they were somewhat scattered and covered with fields of rat shit. The newspaper clippings and other evidence pointed to the most recent occupancy sometime in the 1980s. Eggs, still there from the 1980s!
Why would a place be so suddenly abandoned?
I kept going through various scenarios…Maybe the father was killed in a railroad accident and the family was so traumatized that they simply walked away with the clothes on their backs. Maybe they were evicted under mysterious and extreme circumstances without being given the usual opportunity to pack up their belongings. Maybe they all died in a traffic accident. Maybe they were snatched up by a UFO. Who knows?
Very strange that so much in the way of personal effects were left behind.
I visited again just a few days ago–trudging over several feet of snow to get there. This time, the contents of the houses were scattered around even more: low level vandalism, unfortunately. There was more rat shit. Someone had spray painted witticisms on the walls. The towels we had found folded in the bathroom three years ago were no longer there. The 1980-vintage eggs, though…yep, they were still in the fridge. Bizarre.
This place warrants some further investigation to find out what transpired. Where did these last occupants go? Who were they? What was life like when they lived there? What is to become of this place?
I have built up a nice portfolio of images from the site–images that lay out a very weird, unknown, but surely very interesting story. I worked them up in both black and white and in color, and now I'm seeing that they need to be in color to transmit the full impact of each scene.