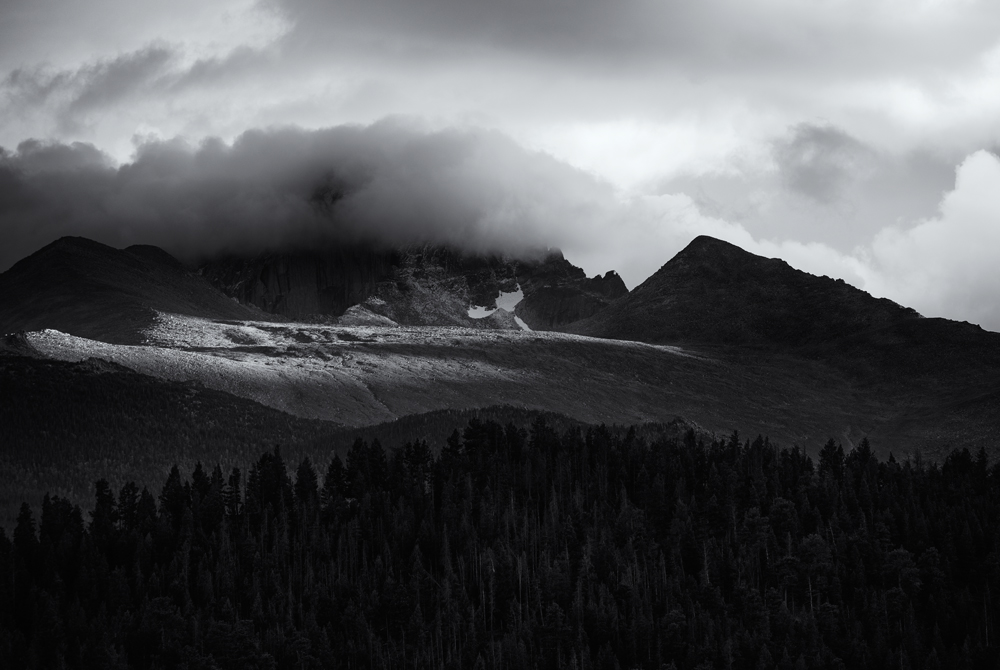 Just an FYI report today…
It appears that the window for climbing the more technical 14ers–Longs Peak, for example–is closing. The above photograph was made on August 28, a day after a wall of cold precipitation moved through the Colorado high country. Note the light, white dusting just to the left of the two obvious snow patches. It doesn't look like much from a distance, but that is a few inches of fresh snow, probably extending down below the 13,000-foot level.
With snow, the Keyhole Route gets a bit dicey without proper experience and gear. Even if the white stuff melts, you may still have the problem of frozen ice in the early morning on the Homestretch, which would make that section as hairy as a Greek canary.
I saw a recent report on 14ers.com that talked of snow down to 12,500′ in the Elk Range (Castle, Capitol, Maroon, Pyramid) with maybe 4-6 inches near the summits.
It is always possible that this monsoon weather will back off a bit and we could have a brief spell of summer-like conditions sometime in late September or October, but you can't count on it.
So, if your goal is to climb the 14ers without too much of an adrenaline rush, maybe plan the easy hikes for early season (May-early July) and late season (Sept-Oct) or winter, leaving the harder routes for "prime time" (late July-August).
And here is another perspective–a Longs Peak image captured on August 29 (the day after the above image) from the slopes of Old Man Mountain in Estes Park. The snow is still visible on the sloping north face of Longs, above the Diamond.