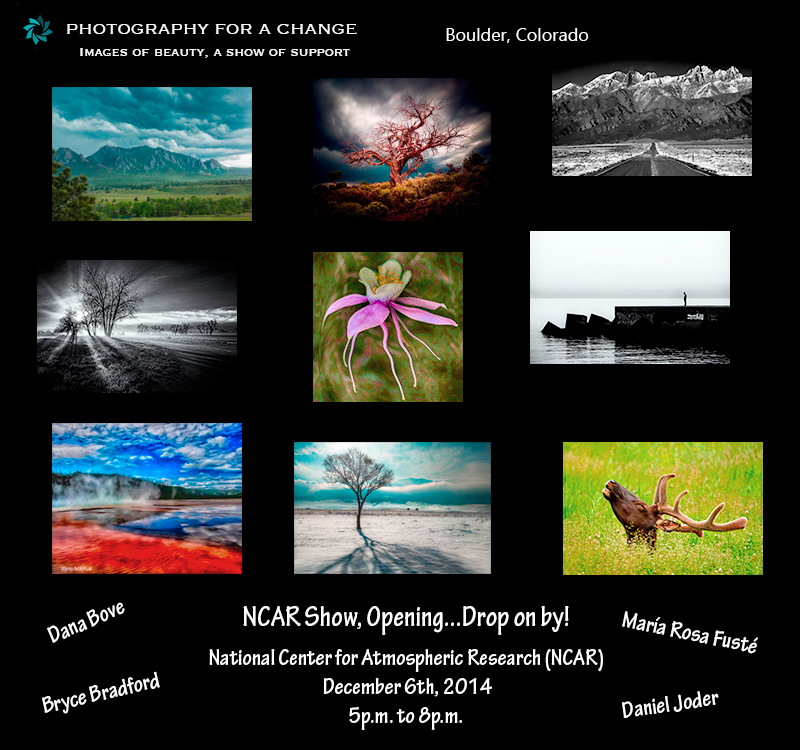 Today we spent a few hours up at the National Center for Atmospheric Research (NCAR), above Boulder, setting up for our show that will be open to visitors and viewers tomorrow. As the freezing fog swirled around the stylish brick building at the foot of the Flatirons, we balanced and leveled framed photographs on the walls and nooks of the large, warm, dining area.
The show, as shown in the above announcement, involves four Photography for a Change (PFAC) photographers: Dana Bove (the PFAC founder), Bryce Bradford (a local, very talented, photog), María Rosa Fusté (my much better and more creative half), and lucky me.
Our art will hang from December 1, 2014 through January 31, 2015 and a portion of any sales proceeds will go to benefit Attention Homes and Western Resource Advocates (thus: "Photography for a Change").
Cynthia Marsh, although not with the Photography for a Change group, will also be displaying her gorgeous abstract paintings in the same exhibit area. Her work is exceptional–some really wonderful explorations of mood and color–and well worth a look see and chat with the artist.
A big thanks to Audrey Lewis (and her husband volunteer!) for her work in running the Community Art Program at NCAR and making these exhibits possible.
So, here is your official invite…
Drop by NCAR this coming Saturday, December 6th, any time from 5p.m. to 8p.m., for the official Show Opening. We'll have some snacks and some mood music in the background. We would love to see you there and talk a little art!
Action photo by María Rosa Fusté: