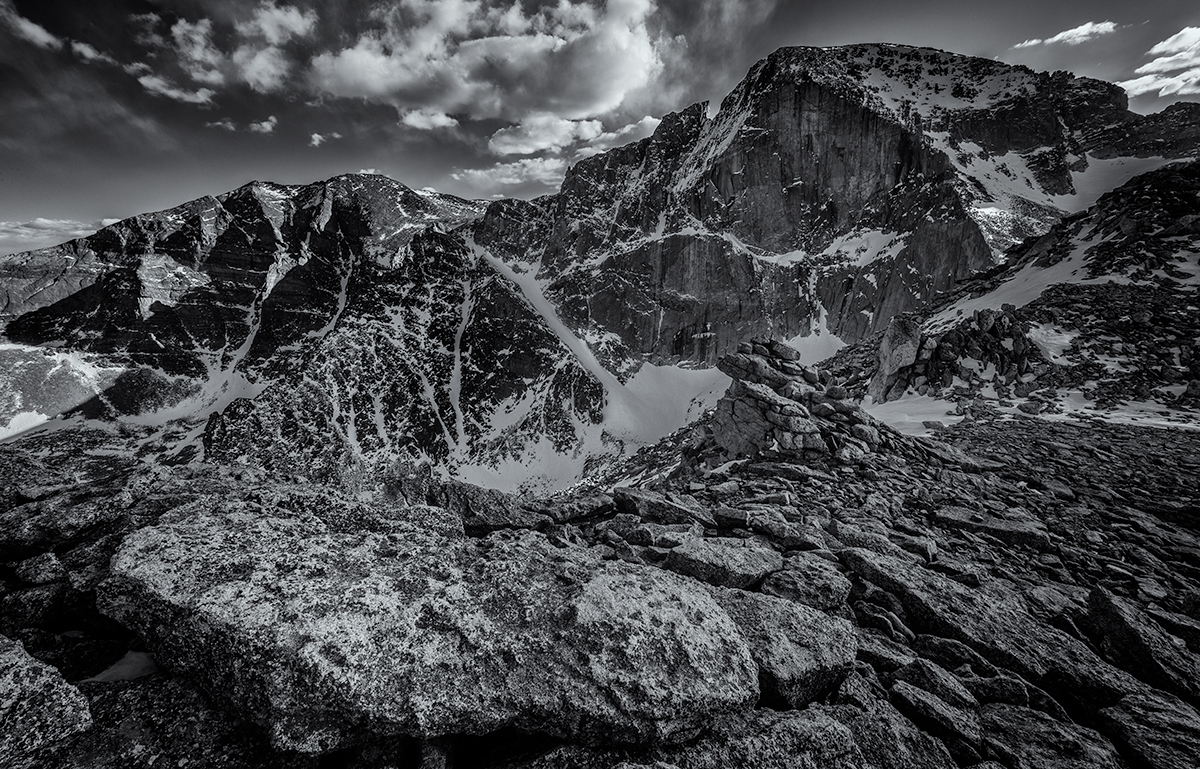 This is sort of an undistinguished bump of a summit but it is a strategically located perch, smack in front of Longs Peak's famous east face, the "Diamond", which makes it a very worthwhile destination (see the sample view above). It is also a relatively safe and accessible mount even during the winter months (but avoid the high wind days!).
Today, I headed up there in exactly the wrong conditions for both hiking and photography. I didn't leave Boulder until 12:30p.m., ensuring the snow on the trail would be soft–perhaps too soft (post-holing hell?). Also, that hour, with the afternoon sun falling behind Longs Peak, would ensure the east face would be in shadow (sunrise/morning is typically much preferred) and the best part of the landscape would have me shooting contre-jour.
But up I went anyway, my justification neurons telling me it would just be a photo recon for some future trip under the right lighting conditions–and, it would be a great workout, thus keeping my red-blood cells ready for the next 14er.
Personal note to other spouses: If you start up the trail and realize you don't have your cell phone and have no way of communicating your situation to your significant other…and, as you climb higher and higher, you realize your late start will have you getting back home well after dark, two hours after your planned return…consider aborting the mission. Your significant other will be happier for it. (It's now time for me to use my REI dividend for a SPOT Gen 3.)
Some highlights:
–This was an early spring ascent, with plenty of snow still covering the trail up through treeline. If climbing during this time o' year, conditions can change daily–you could find everything from solid, frozen snow, to fresh powder, to post-holing insanity. Check trail conditions and watch the weather and temperature reports using all available sources. Base your footwear selection accordingly (bare boot, spikes, snowshoes, skis).
–Despite the very late start (up the trail starting at 2:15p.m.) and the short-sleeved, T-shirt temps, my choice of microspikes up through treeline was perfect. The trail has packed enough that post-holing was not a factor, unless you inadvertently stepped off the track (then you might sink halfway to China).
–Above treeline, I took off the spikes and used naked boots all the way to the summit. There were enough wind-blown bare spots and rock-hopping terrain that the spikes weren't helping that much.
–I chose to go straight up the east ridge from the Chasm Lake trail junction, then back down via the Boulderfield. Good choice. You might consider it, too. Coming back down the east ridge would have been hard on my knees (some steep, Class 2+ boulder-hopping and scrambling). The cruise down the north slope to the Longs Peak trail by the Boulderfield was a quick and fairly easy alternative.
–Once you start up from the Chasm Lake trail junction toward the MLW summit, prepare yourself mentally for a long climb. It looks short due to perspective foreshortening, but you'll get a pretty good workout. It involves about 1,700′ of elevation gain, all basically off-trail.
–As it turned out, the photography possibilities were not as bad as I had anticipated. You work with the conditions you have, I guess. So, MLW can work for afternoon photography–but sunrise would still be best by a long shot (sic).
–Total time, Boulder to Boulder, was about 9 hours, so maybe just around 6+40 trailhead to trailhead. (I did a lot of walk-jogging on the way back down to speed things up.)
Some selected images:
The big city doesn't really look that far away…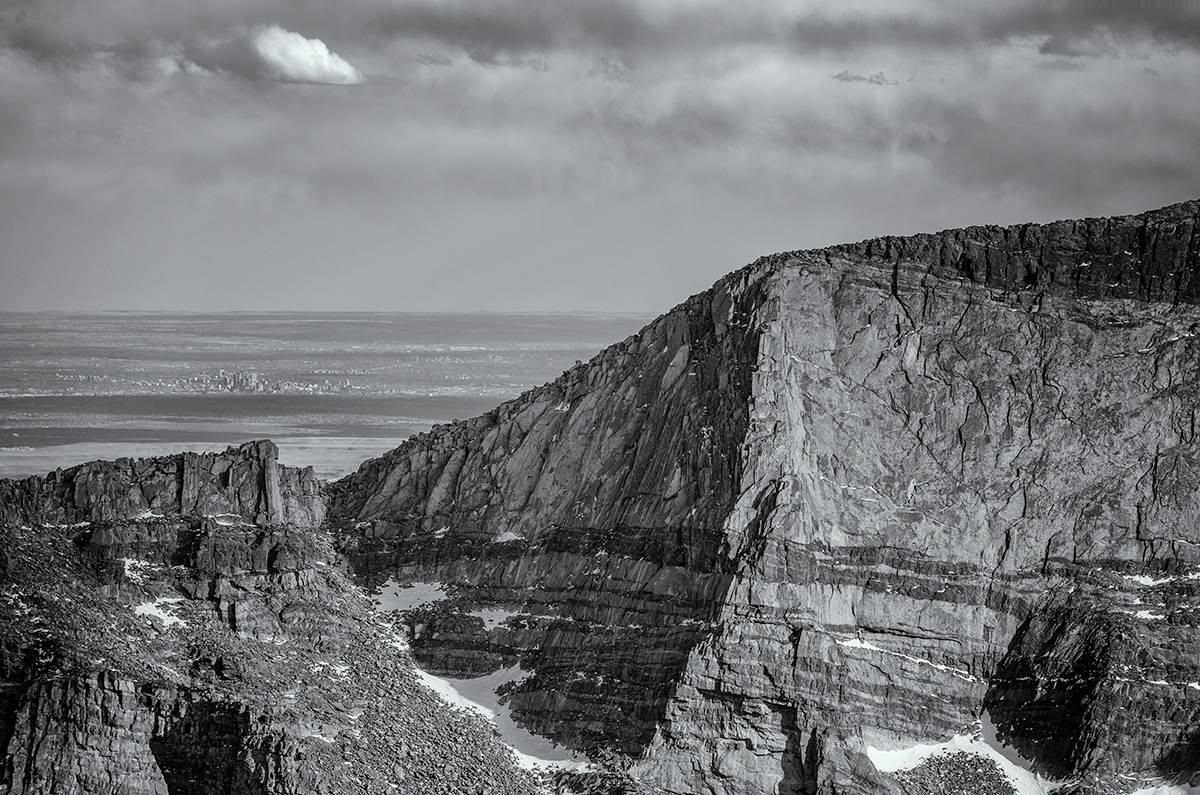 The Keyhole, famous gateway to Longs Peak's "easiest" route…
The view to the northwest into the center of Rocky Mountain National Park…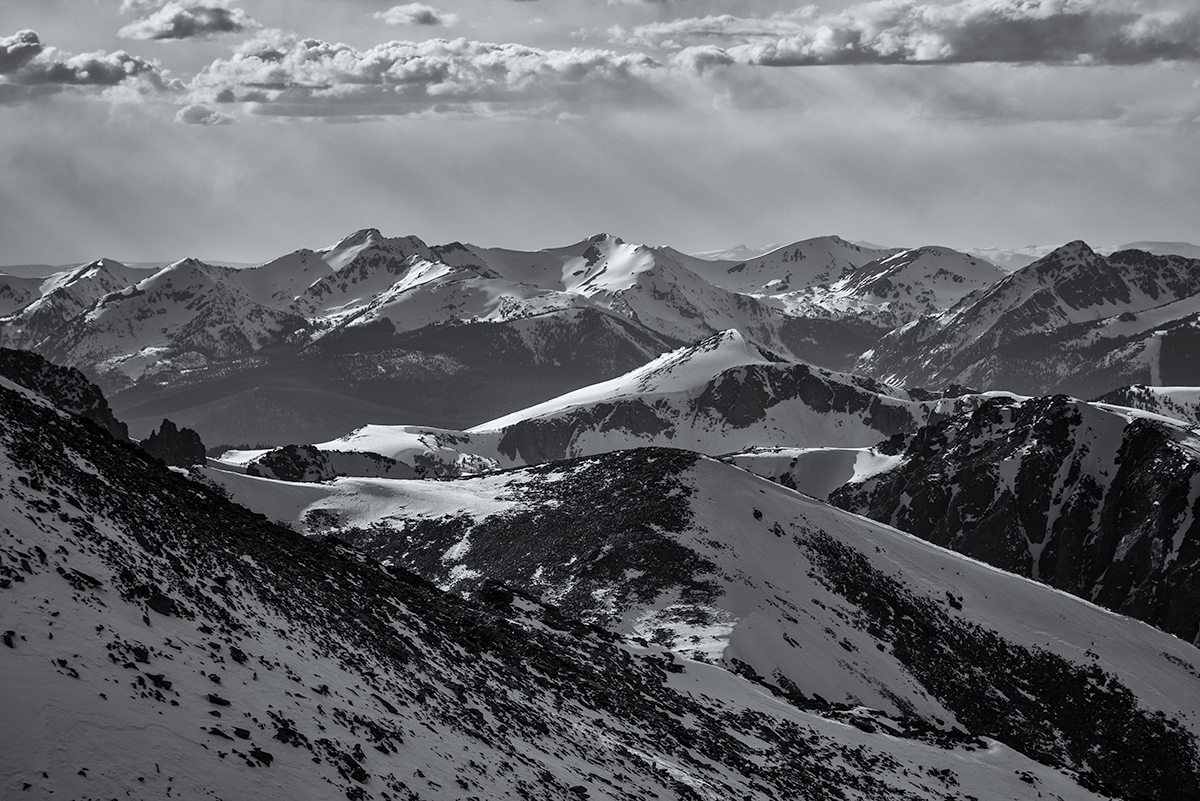 The main attraction. If you look carefully, you can pick out the Keyhole on the right side. "Lamb's Slide" is the biggest snow chute you see, sloping down and to the right–an objective of many an expert skier…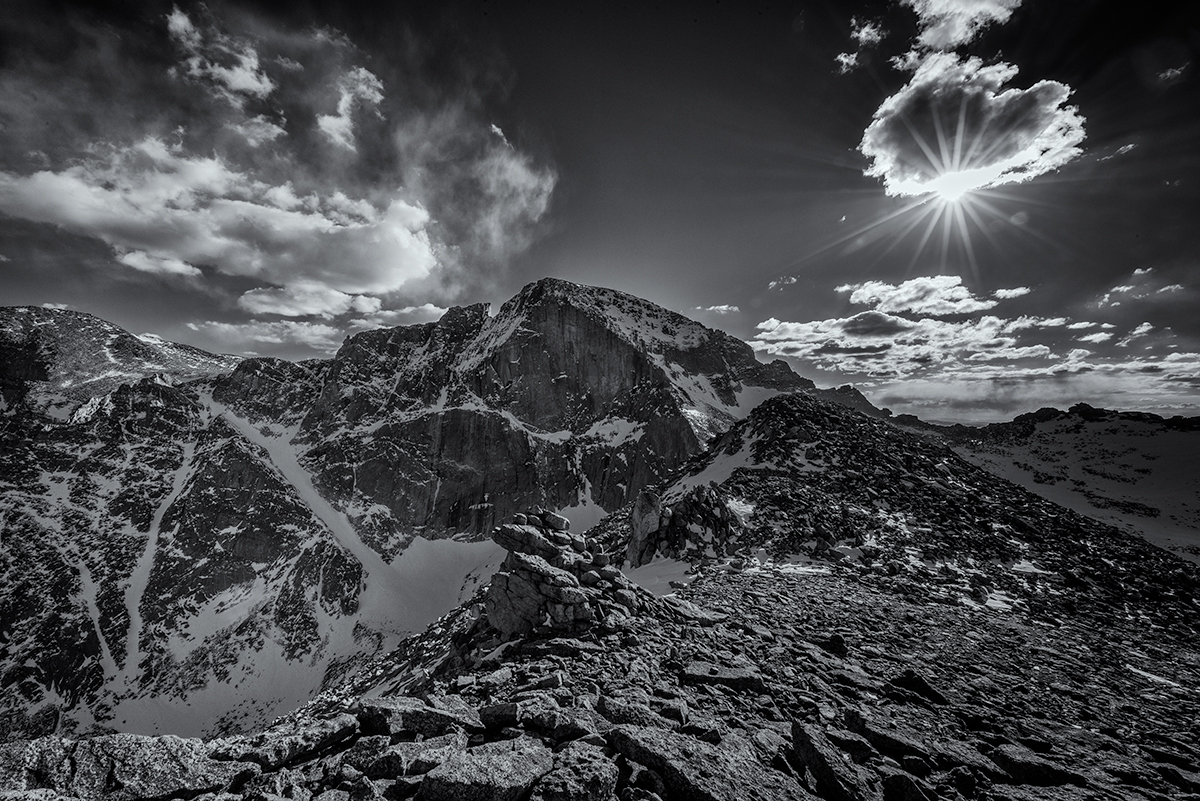 A closer look at the Diamond. "Broadway" is the snow-covered, curvy ledge in the lower part of the photo…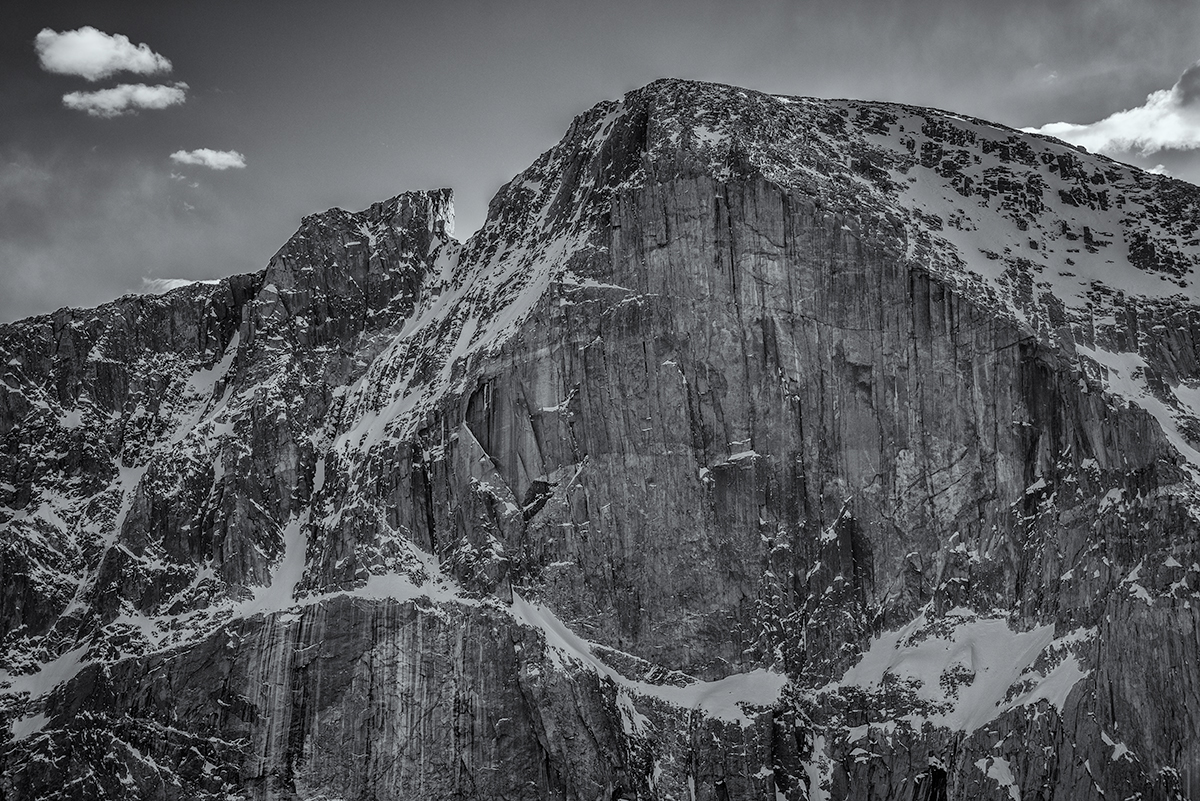 End of the day…