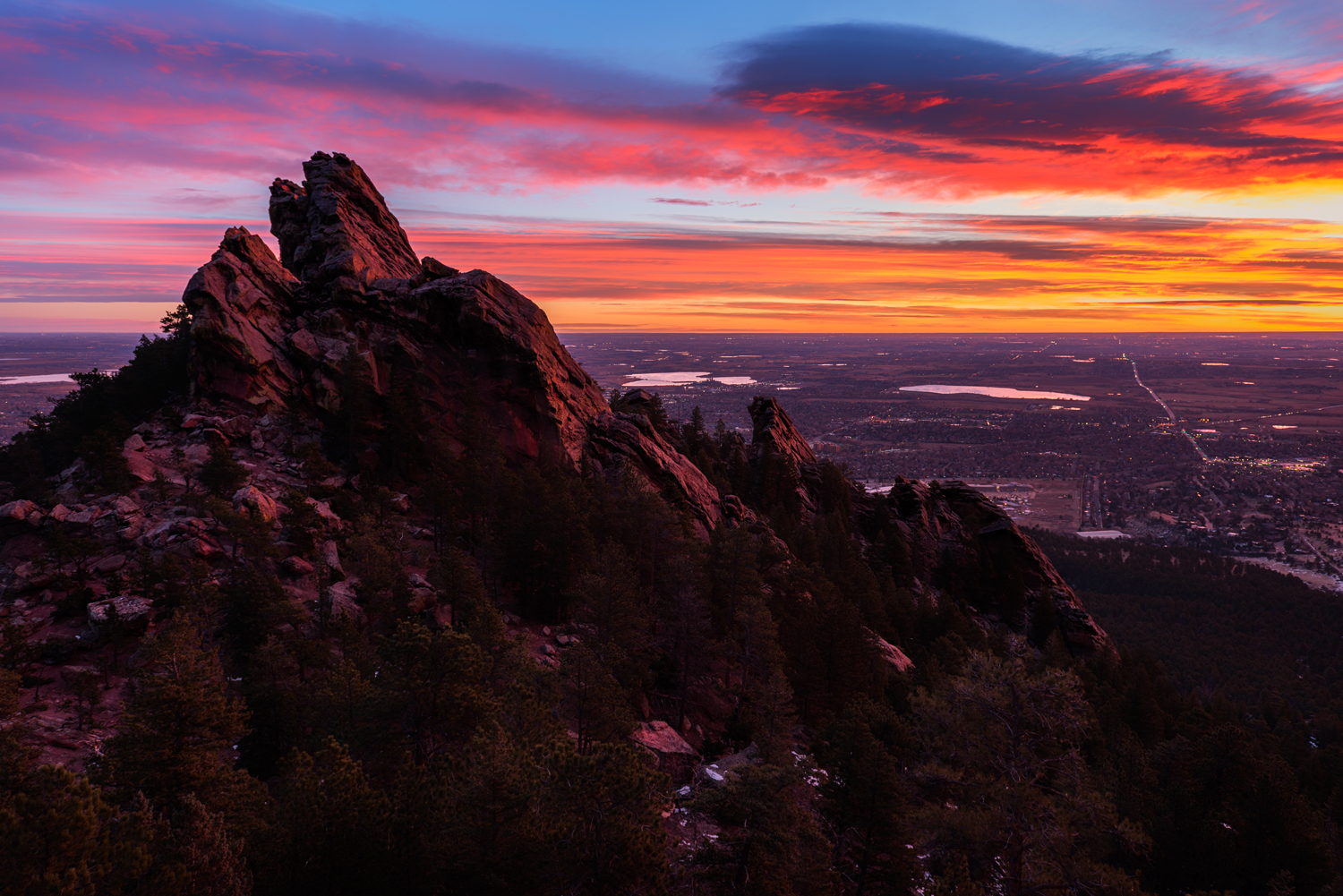 Boulder, CO Local Area Photography Suggestions: LOCATIONS!
On occasion, I have been contacted by other photographers from elsewhere about good photography locations in and around Boulder, Colorado. As an aid, here is a list that includes most of my favorite haunts in the local area (generally, within an hour's drive of Boulder). I'll assume you are experienced enough to choose a place to go based on month, time of day and lighting. Make sure you dress appropriately for the season and be prepared for the weather to change for the worse! Click on the link for more specific information and driving instructions.
If you'd like me to set up a Boulder area tour for you, go to the Contact tab and let me know!
1) Flagstaff Mountain – Great sunrise and sunset views of Boulder, Denver and the Great Plains. The first pullout on the right as you go up the mountain from Baseline Road, called Panorama Point, has a clear view and room to set up your tripod. You can go all the way to the Amphitheater, but the trees block much of the view. The west side of Flagstaff Mountain on the Range View Trail will give you some views up toward Sugarloaf Mountain and the Indian Peaks area of the Continental Divide. A fee is charged for parking on Flagstaff Mountain if your car is not registered in Boulder County.
2) Boulder County Open Space or City of Boulder Open Space – Acres and acres of possibilities! Just about any of these areas, especially at sunrise or sunset, can yield good images. Take your pick. I like the areas with bodies of water or the areas that give me a view, like Heil Ranch, Sawhill Ponds, or Rabbit Mountain. For a quick access, five-minute hike to a decent photo op, try the Wonderland Lake trail just off of Broadway in north Boulder. Some open space areas require extensive hiking to get to the good photo sites, others only require a few hundred yards of walking (like Wonderland Lake or Sawhill/Walden Ponds!).
3) The Pearl Street Mall – A great place for street and people photography. There is almost always a lot of action there, especially during festivals and on Fridays and Saturdays. The Mall usually also has a good selection of street performers, musicians and musical groups plying their trade.
4) NCAR – The National Center for Atmospheric Research is that unusual building above Boulder and just below the Flatirons at the end of Table Mesa Drive. Another good sunrise/sunset viewpoint from their parking lot. There are also some good close-in views of the Flatirons from here and trails to get you even closer. Inside the building is a fun hands-on museum and, in the cafeteria you can usually find artwork from local artists. Check their website for access hours up the road–in summer, it doesn't open until well after sunrise–and no stopping or parking is permitted along the road.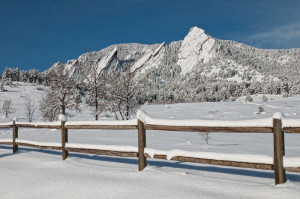 5) Chautauqua Park – The classic view of the Flatirons and a great place to start a hike up toward these big slabs of sandstone. The meadow is often used by wedding and portrait photographers–especially when the wildflowers are blooming. You might also enjoy exploring the nearby historic buildings or eating at the historic Chautauqua dining hall.
6) Boulder Creek – Just about anywhere along Boulder Creek can yield good images. I personally like the area by the Kid's Fishing Pond for the nice reflections (Summer, 2015 and beyond: expect some construction in the area as they rebuild post-2013 Flood and implement a master development plan), especially in the fall (park at 6th and Canyon). Here, you have a good chance of running into a portrait photographer with a client. If you are really lucky you might catch Michael Grab building one of his incredible, balanced, stone sculptures in the middle of the creek–look for him in the vicinity of Eben G. Fine Park. A bit upstream from this park you might find kayakers in the spring and summer.
7) Boulder Canyon – Boulder Creek reaches the City of Boulder through this scenic defile after falling some 7,000 vertical feet from its source near the Continental Divide. Anywhere along the length of Boulder Canyon you may spot rock climbers on the granite crags. For good close-up rock climbing shots, try Castle Rock at 12 miles up the Canyon from Boulder, also a great summer picnic spot–but first, be sure to stop at Boulder Falls a mile prior to that. Added bonus: Watch out for that perfect image of a fly fisherman/woman at work anywhere along the Canyon.
8) Eldorado Springs Canyon – This is a rock climber's mecca and attracts rock jocks and jockettes from all over the world. In the fall, I love the colors of the foliage against the spectacular multi-hued rock walls and the turbulent creek always has great water photography possibilities. Also, the rustic, historic resort at the entrance to the canyon might attract your photographer's eye (or just go for a summer swim!). Colorado State Parks fee or pass required to enter the park.
9) Sugarloaf Mountain – This small 8,917′ peak is ideally located to give great views of the Continental Divide and out onto the Great Plains and is accessible in all seasons (winter gear in winter, though!). From downtown Boulder it takes me about 25 minutes to drive to the trailhead, then another 20-30 minutes or so to hike to the top. It is one of my favorite spots for sunrise (and sometimes sunset) landscape photography, especially post-storm.
10) Mountain towns–Central City, Rollinsville, Nederland, Jamestown, Ward, Gold Hill and Allenspark – Each of these places has a unique personality and is worth a stop if you happen by. I'll leave the exploring to you! St. Catherine's Chapel (a popular wedding site) on the Peak-to-Peak highway (Hwy 7) is a common photo stop and can make a nice image under the right lighting and weather conditions. After your photo shoot, be sure to stop in for some great home-made food at the Meadow Mountain Cafe in Allenspark.
11) Estes Park and Rocky Mountain National Park (RMNP) – If you are into street photography of tourists, downtown Estes Park is a target-rich environment during the summer. For something a bit more interesting, though, check out the numerous festivals on their town web site or my "Events" list below–Estes seems to have something going on nearly every weekend from spring through fall. RMNP is too huge to mention all the photographic possibilities, so I will highlight just a few: Trail Ridge Road for the views of the Divide and Longs Peak, Old Fall River Road for more intimate views (and Chasm Falls), October for the elk rut and fall colors, Bear Lake for some nice scenery and reflections. I also like the little 1/2 mile paved trail at the Rock Cut Overlook on Trail Ridge Road for sunrise and sunset landscape photography. Caution: if you haven't acclimated, the 12,000′ elevation on Trail Ridge can leave you gasping! If you plan on spending time in the Park, try Erik Stensland's pocket guide (I believe it now costs $12.99 for the PDF download) for some detailed photography tips.
12) The Wild Animal Sanctuary – Located out east on the plains about 45 minutes from Boulder. You'll find many, many lions and tigers and bears (oh my!) and other animals that you can safely photograph from a walkway above their pens and pastures. This is a wonderful place dedicated to saving animals that have previously been abused and kept in horrific conditions. Note: They have recently increased their prices to see the animals. Don't complain–just pay. Why? The place is not a zoo. It is a safe haven for rescued animals and they need the money for operations.
13) The Butterfly Pavilion – Just off of Highway 36 about 15 minutes southeast of Boulder (toward Denver), this living museum is great for kids as well as photographers (they have millipedes, beetles, spiders, and scorpions, too!). Check their website for dates when they have special early morning sessions when tripod photography is allowed (before they open to the general public). Also, prepare your equipment beforehand for the warm, humid conditions inside the exhibit–make sure your camera and lenses are kept warm, carry a lens cloth, and use a lens filter as an extra humidity barrier.
14) Denver Botanical Gardens – Another great spot for those photographers interested in flowers, plants and macro photography. Check their website to see what is currently blooming. Be aware that you can't use the images you capture there for commercial purposes.
15) Downtown Denver – People and street, architecture, sports, special events–it's a big city so you have all types of photography available. A fun area for a photo walk is the 16th Street Mall, Convention Center, Arts Complex, Capitol, Library and Art Museum area. Also, areas of both Colfax and Broadway might be of interest to the more dedicated street photog. If you are there for a "First Friday", go to Santa Fe Avenue to support the arts. The Cherry Creek area also has some very upscale galleries and the Arts Festival in July is not to be missed. Check the city website to see what events are coming up in the Mile High Metropolis.
Boulder, CO Local Area Photography Suggestions: EVENTS!
Here is a month-by-month calendar of fairly well established events in Boulder (or within a reasonable drive of there) that may interest both visiting and local photographers.
CAVEAT EMPTOR: These events–especially the lesser ones–can often change web sites, dates, and months, and can even disappear altogether one year only to reappear the next, so I haven't included any links. It is easy enough for you to check Ms. Google for the event in question to get the current year's status and information. Even so, I'll do my best to keep the list as accurate (to the month) as I can.
I have chosen these events mainly based on their photographic opportunities, but a few others I have included simply for cultural interest.
JANUARY
Polar Bear Plunge (Jan 1 at noon), Boulder Reservoir
FEBRUARY
International Film Festival, Boulder (may also be scheduled for March–Google the event.)
Screamin' Snowman Snowshoe Race, Eldora Nordic Ski Area
MARCH
Boulder Bach Festival, Boulder
World's Shortest St. Patrick's Day Parade, Boulder
Frozen Dead Guy Days, Nederland
Retro Ski Day, Eldora Ski Resort
APRIL
Annual Conference on World Affairs, Boulder
Boulder Farmer's Market (April-October), Boulder
Tulip Fairy and Elf Parade, Boulder
MAY
Taste of Pearl (culinary arts), Boulder
Bolder Boulder 10K, Boulder
Erie Balloon Festival, Erie
Boulder Creek Festival (Memorial Day weekend), Boulder
Mahler Fest, Boulder
Jazz Fest and Art Walk, Estes Park
JUNE
Shakespeare Festival (June – August), Boulder
Village Arts Coalition International Festival, Boulder
Scandinavian Mid-Summer Festival, Estes Park
Madame Lou Bunch Days & Bed Races, Central City
Colorado Renaissance Festival (weekends, June – July), Larkspur (south of Denver)
JULY
Ralphie's Independence Day Blast (July 4), Boulder
Fireworks Over Lake Estes (July 4), Estes Park
Open Arts Festival, Boulder
Cherry Creek Arts Festival, Denver
Boulder Peak Triathlon, Boulder
Rhythm on the River, Longmont
Rooftop Rodeo, Estes Park
AUGUST
Boulder Asian Festival
Big Wheel Rally, Boulder
North Boulder Park Classic Bike and Running Races, Boulder
Boulder 70.3 Triathlon (Ironman qualifier), Boulder
Pearl Street Mile
Kinetic Sculpture Race, Longmont
Nedfest (music), Nederland
Boulder's Big Hootenanny (music), Ward
Estes Park Heritage Festival, Estes Park
SEPTEMBER
Downtown Fall Fest, Boulder
Moondance International Film Festival, Boulder
Boulder Romanian Festival, Boulder
Buffalo Bicycle Classic Tour, Boulder
Naked Pumpkin Run, Boulder (a sort of unpredictable, underground event)
Estes Park Scottish-Irish Festival, Estes Park
Estes Park Annual Film Festival, Estes Park
Autumn Gold Festival, Estes Park
OCTOBER
The Shootout 24-hour Film-Making Contest, Boulder
Howl-O-Ween Canine Costume Contest, Boulder
Munchkin Masquerade (Halloween afternoon), Boulder
Boulder Marathon, Boulder
Elk Fest and Elk Rut, Estes Park
NOVEMBER
Switch On the Holidays, Boulder
Santa's Arrival and Tree Lighting, Boulder
Catch the Glow Christmas Parade, Estes Park
DECEMBER
Lights of December Parade, Boulder