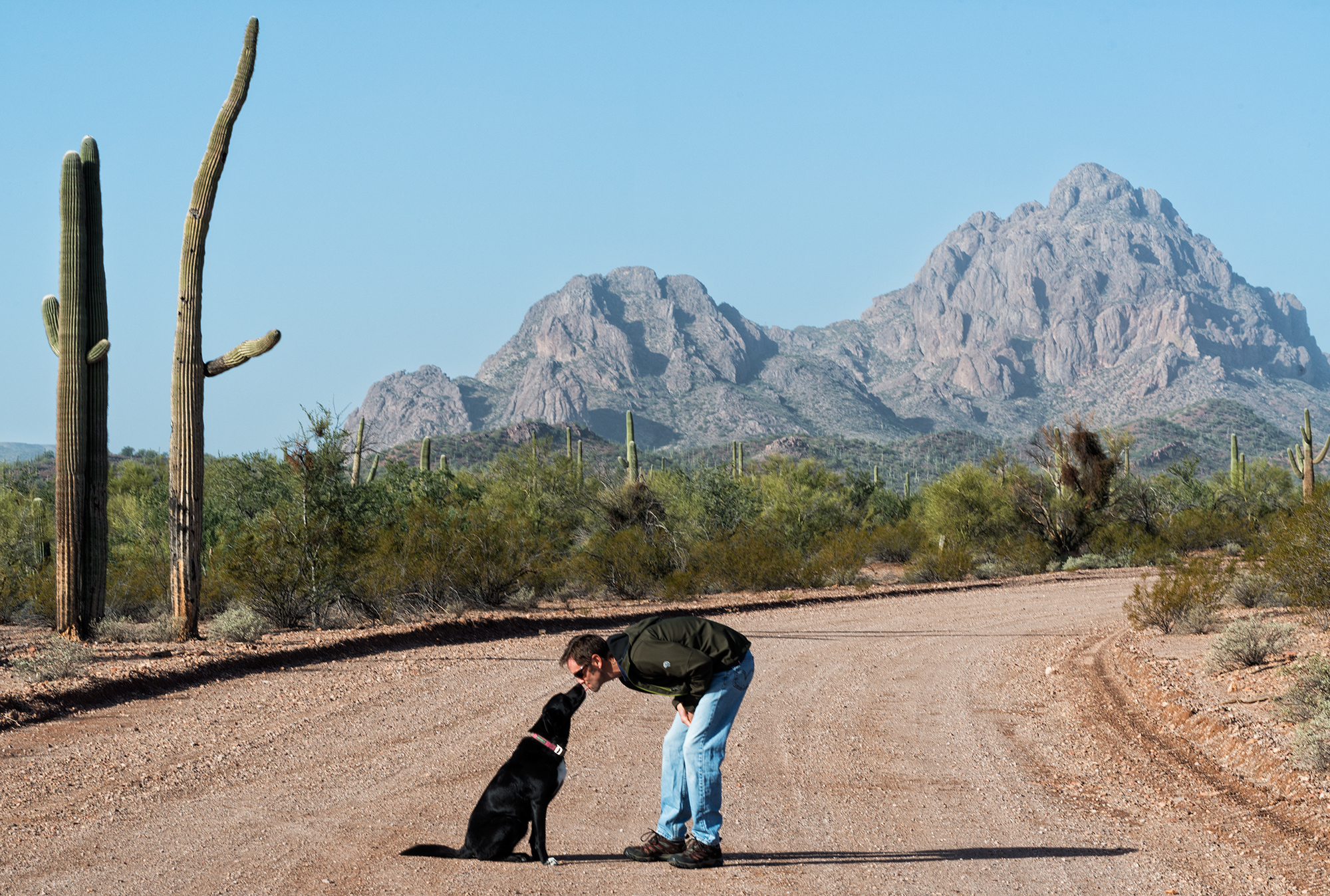 If you have never heard of the Ironwood Forest National Monument in southern Arizona you could be forgiven. This 129,000-acre preserve in the Sonoran Desert was created very recently–in the year 2000 by President Bill Clinton.
It was news to me, too!
Indeed, we were there last Saturday (Dec 17) for a "Three Brothers" climb of one of the most prominent peaks in the Monument, Ragged Top, and we never saw another sapien soul…just a white-tailed deer and plenty of fresh bighorn sheep droppings. So, I guess the word has yet to get out amongst the more intrepid of us human beans.
There is plenty of info online about how to get to the base of Ragged Top, so I will dispense with redundant navigation directions–you can figure it all out. And the pictures that follow will give you plenty of bread crumbs to follow once you are in the area.
One key recommendation: Make sure you pick a cool day to minimize the amount of water you have to carry. With highs in the 50s and calm winds, we chose the perfect day. This is definitely a winter season hike if you are in to reasonable comfort.
Other minor recommendations: Wear long pants, long sleeves, and sturdy boots. There is no defined trail, lots of loose rock, and the catclaw will ambush your every move, especially once you are confined to the narrow gully high on the mountain. Tweezers, a comb, and/or pliers wouldn't be a bad idea, too, for pulling out those Cholla cactus needles from your boots, calves, and shins.
From the main dirt road, plan on 4-5 hours to cover the roughly four-mile and 1,700′ vertical out-and-back trip. There is a bit of Class 2+/3- in the last 50′ to the top, but below that it never really exceeded Class 2 if you chose your route carefully.
Conditions were not great for photography–this was a mid-day trip and there were almost no clouds in the sky for miles around. So, what follows is not so much "art" as it is helpful beta for your trip.
The object of our affections for the day…From the road the peak looks spectacular and quite improbable to ascend, but have faith as the massif will retreat into apparent simplicity the higher you climb up its slope: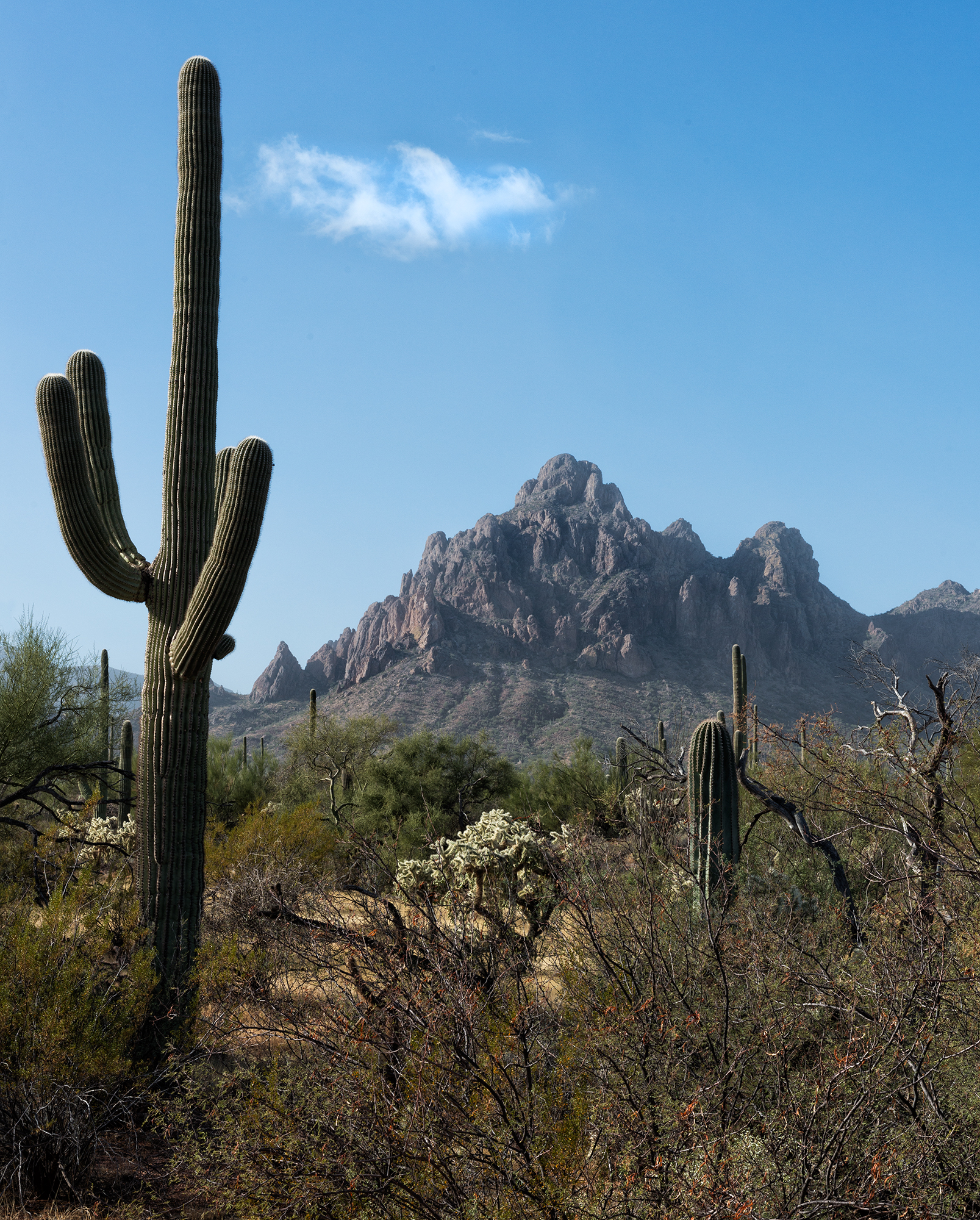 A roadside oddity. I am hoping it was not due to human abuse: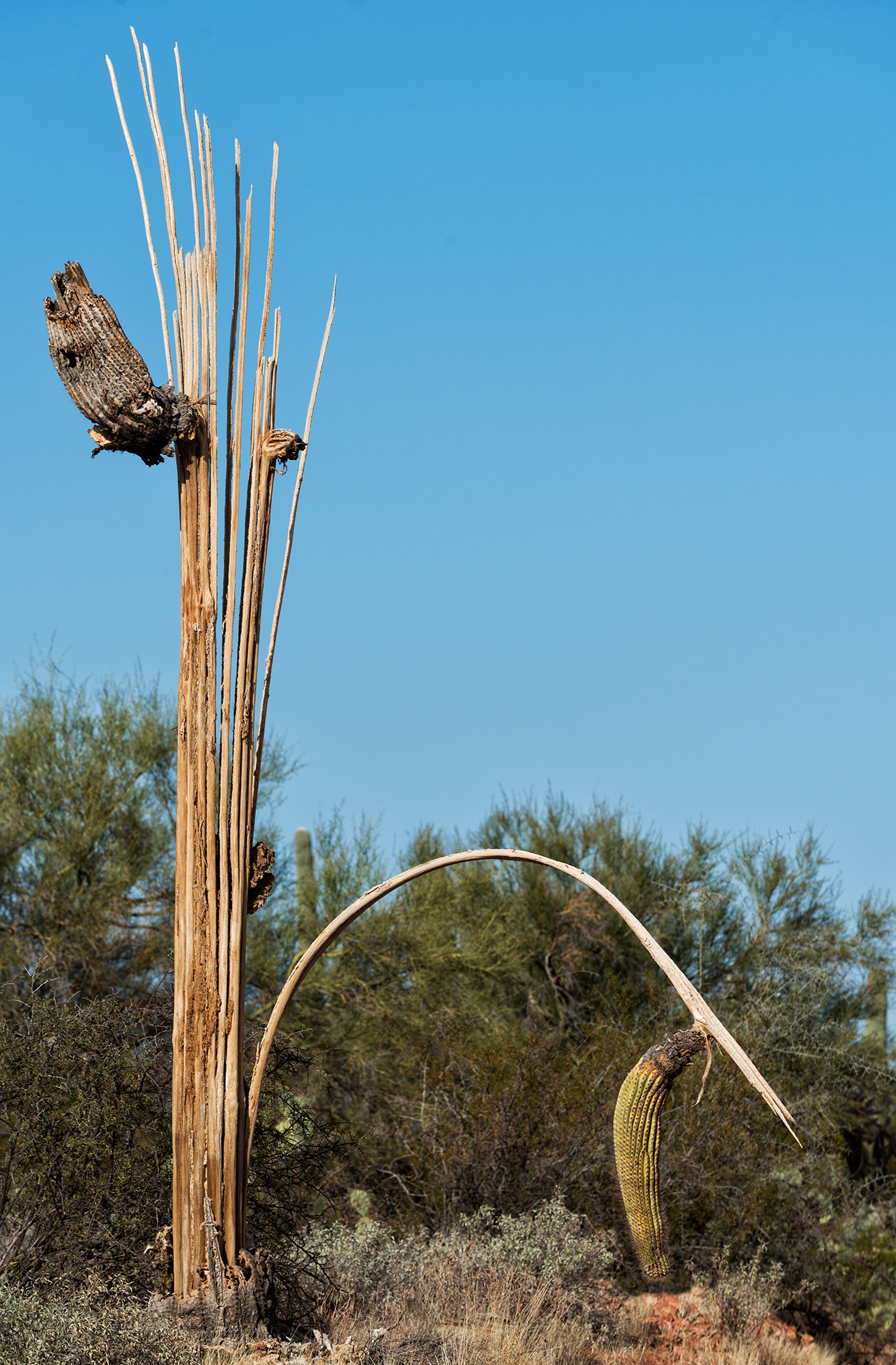 From the main dirt road, the walking is pleasant and innocuous enough at the beginning, but gets more difficult as you climb higher. There is no trail, so pick your way toward the North Gully (see arrow below) as best you can using washes, sections of game trail, and more open areas: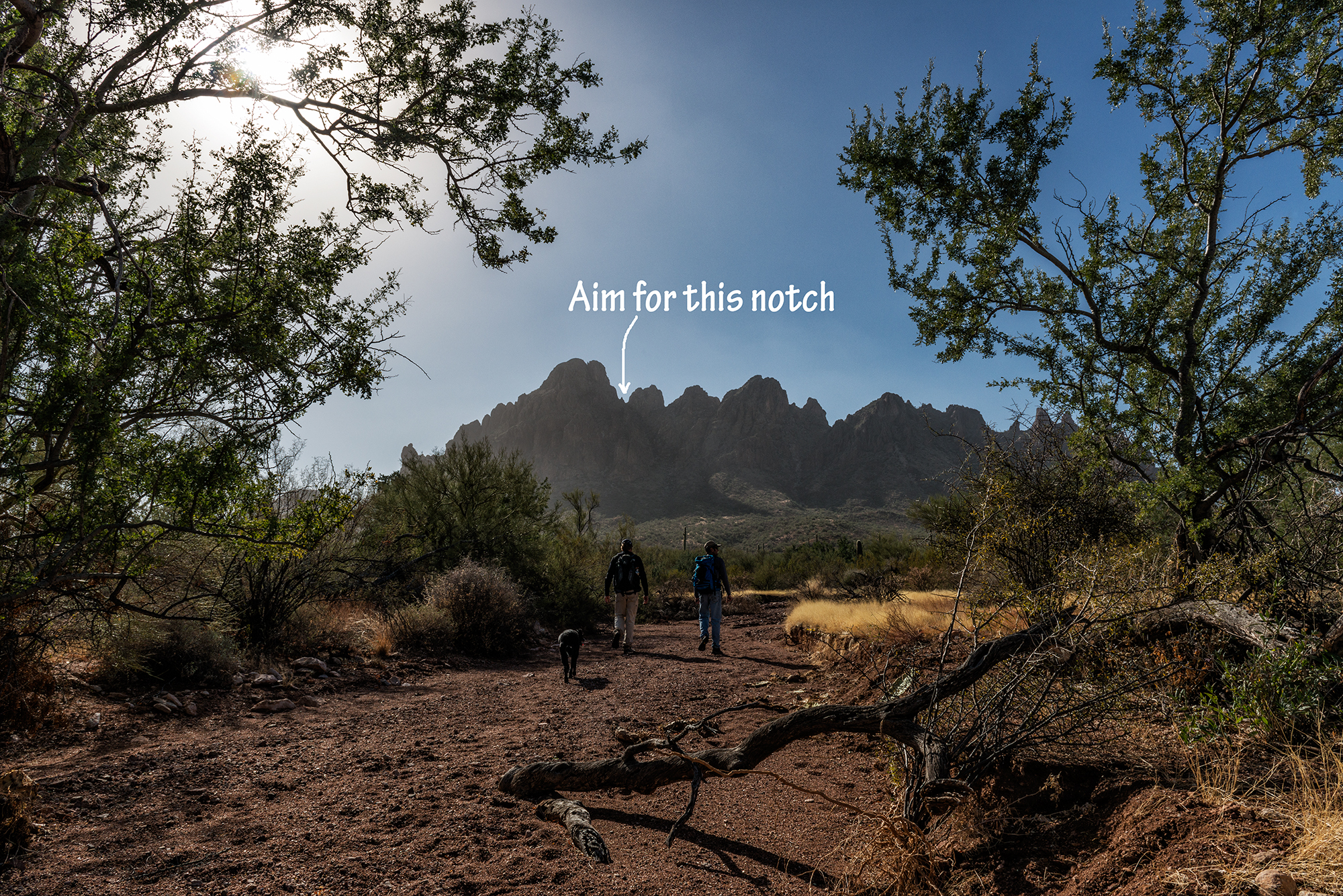 The slope begins to steepen and the hardy Sonoran Desert vegetation–all of which scratches, sticks, pinches, pokes, or stabs–begins to thicken: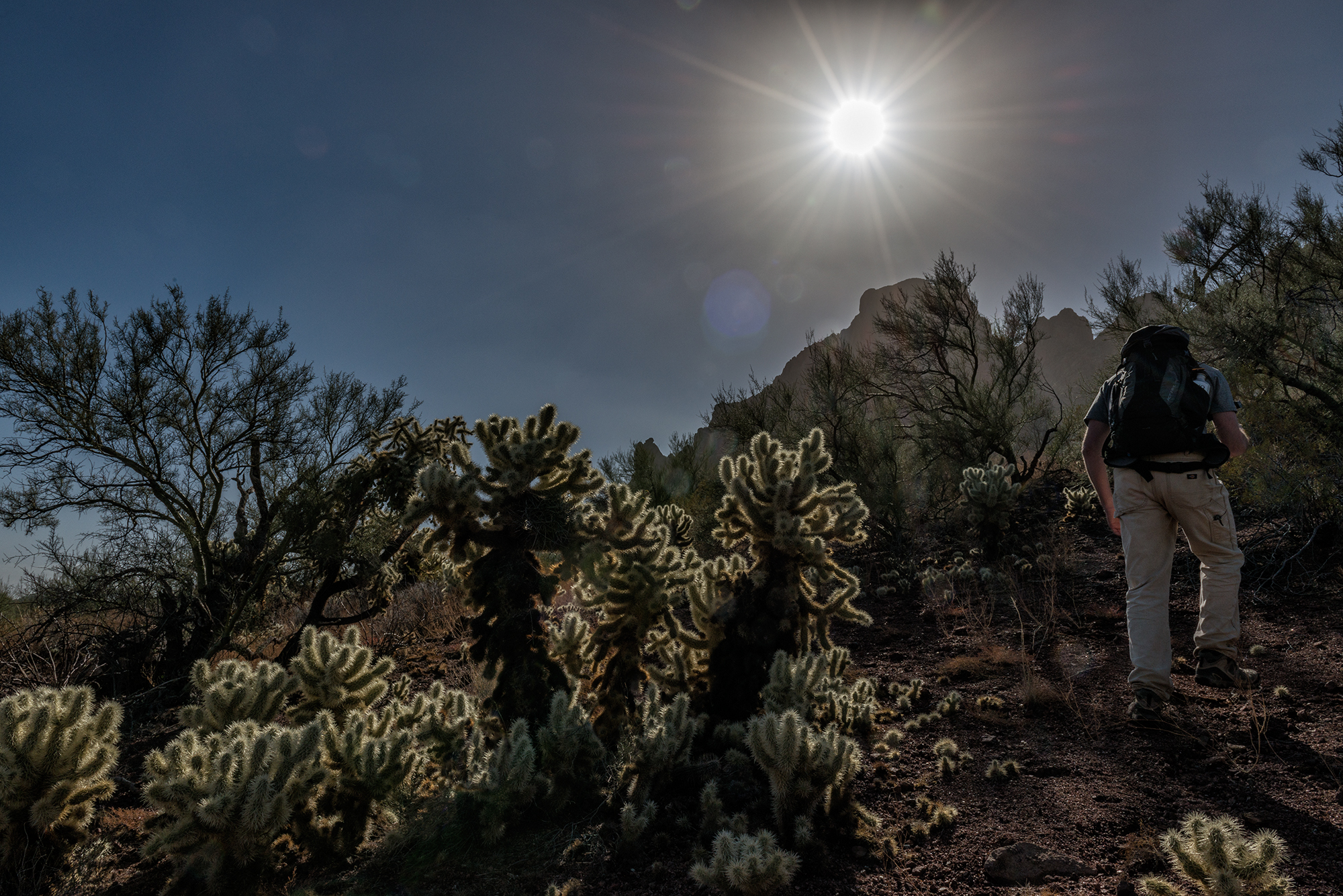 Ragged Top is quite am imposing mass of rock, but it is actually composed of many separate walls and spires. The standard route goes up the North Gully to that U-shaped low point in the middle of the picture: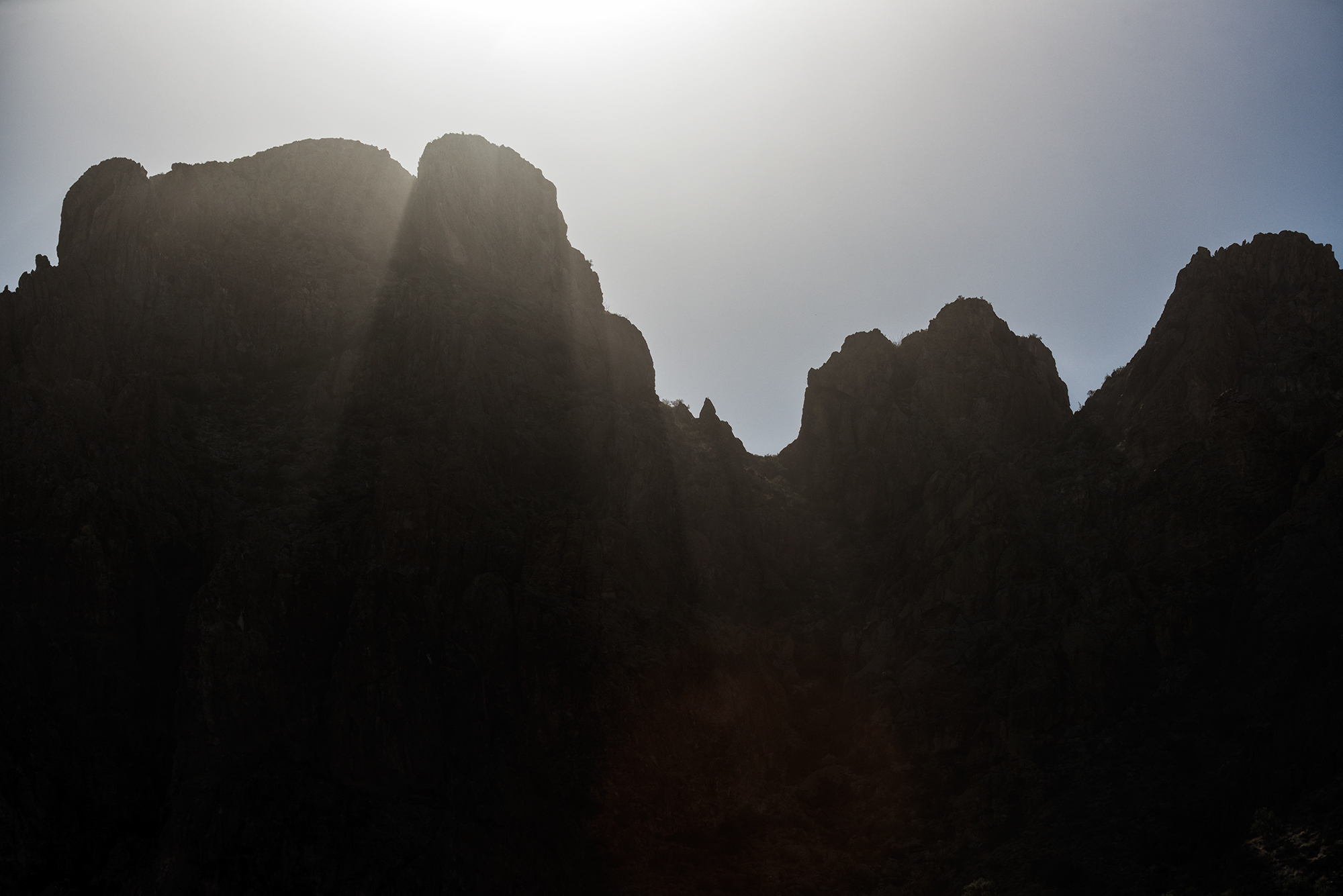 Nearing the base of the North Gully, here is the view behind you. Greg (photographed there for scale) has stopped to fix his camera: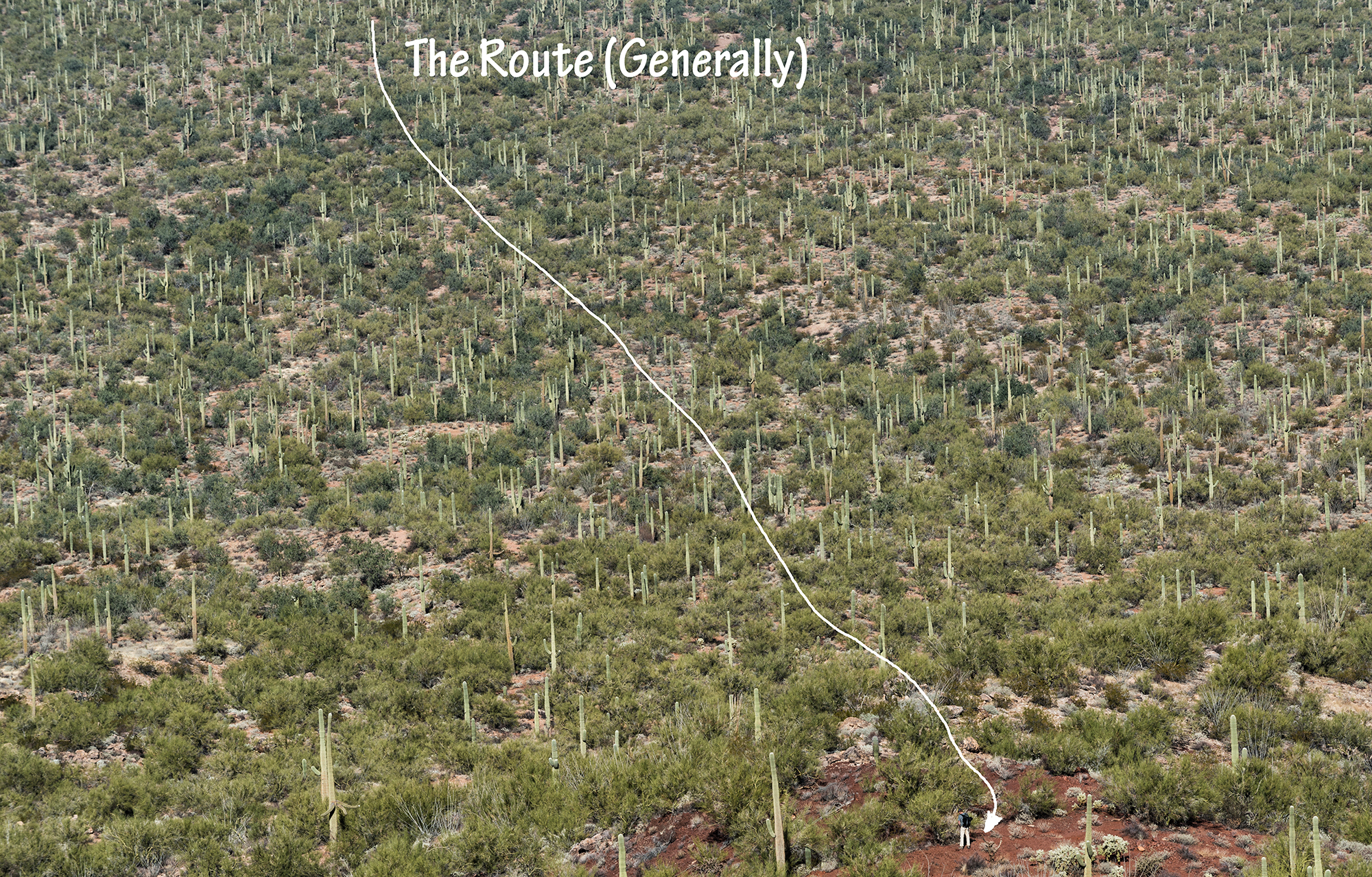 Looking up at the gully and wondering if it "goes". It does, but expect some scrapes and cuts from rolling/sliding rocks, and the palo verde and catclaw: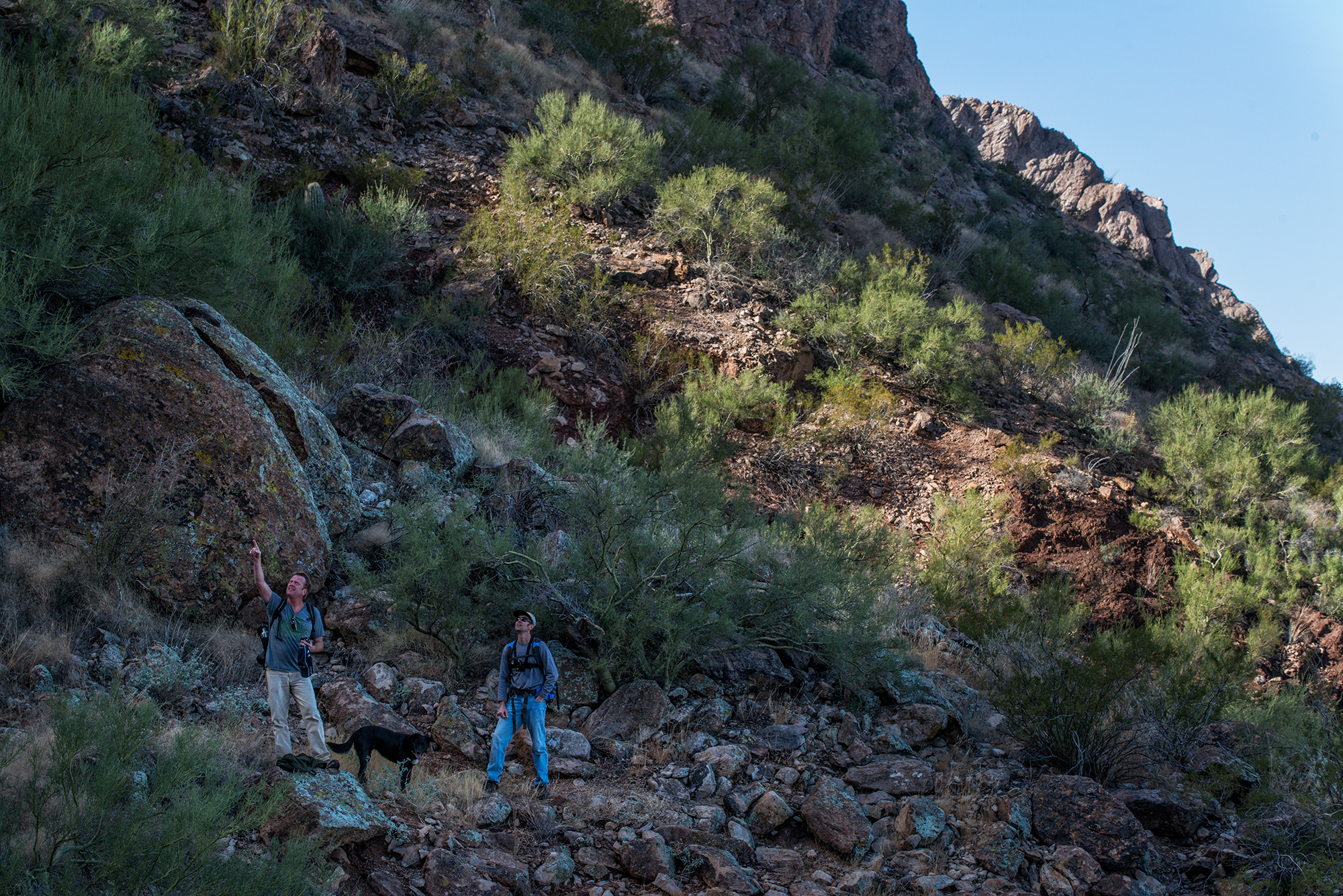 A cold front had just moved through dropping the temperatures from the 80s the day before to the 50s on this day. I am not sure if the haze was residual humidity or a generous gift of gas from the lovely Los Angeles basin: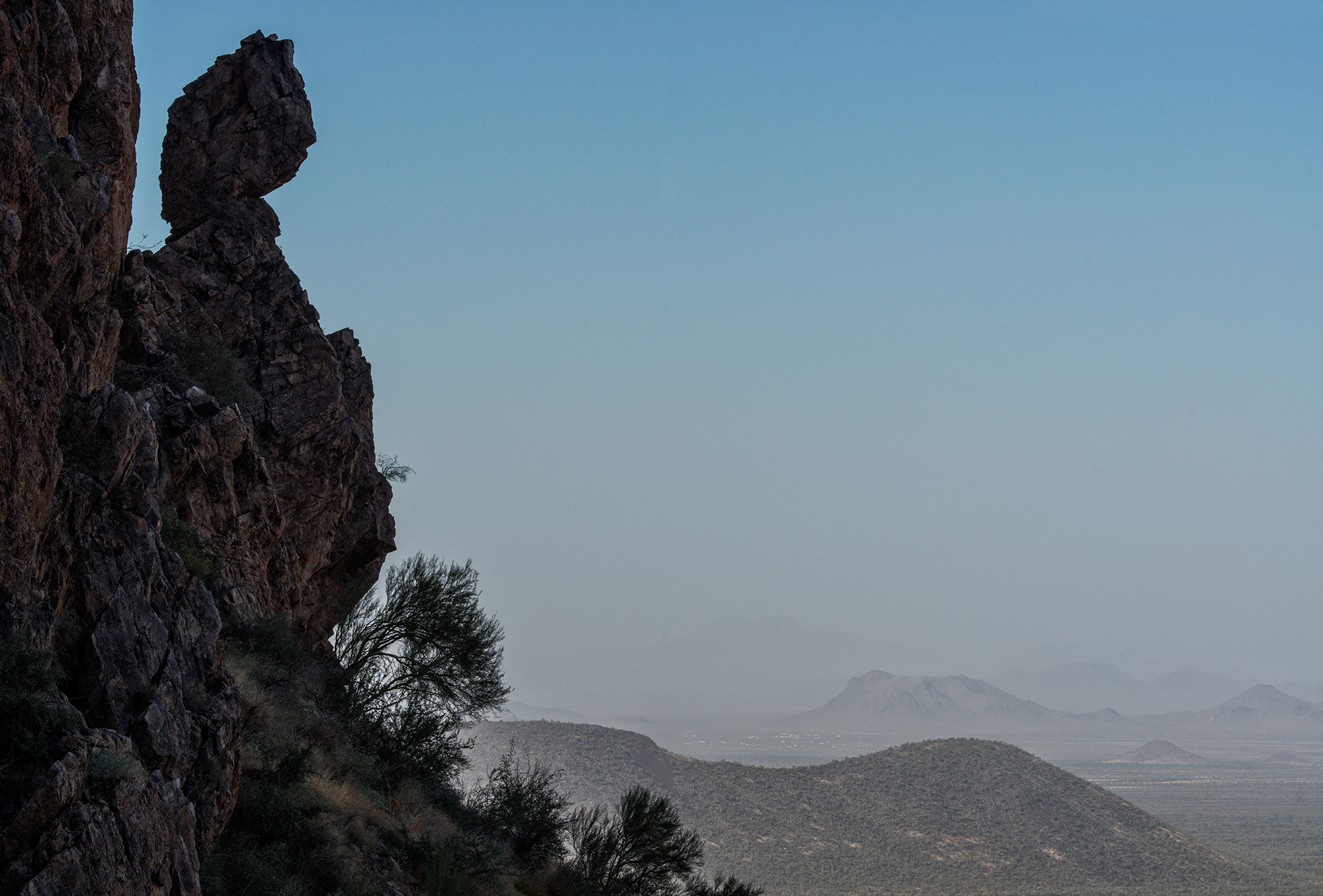 Greg works his way up the easy Class 3 rock of the last fifty feet to the summit, GoPro in hand: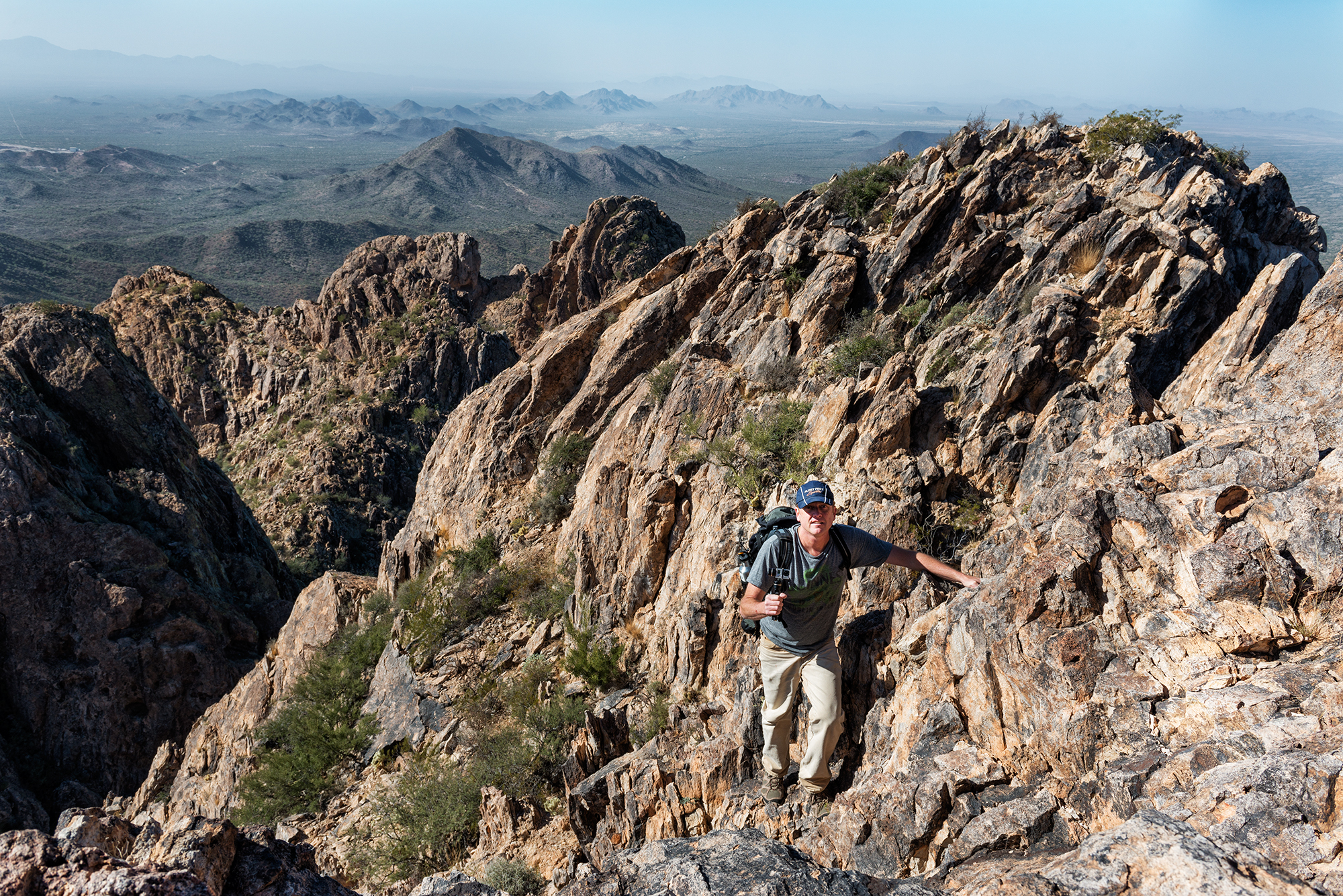 Brian collects a few summit photos…and displays on the back of his shirt our increasingly common refrain. Note the vintage 1970s era water bottle. Yeah, I am probably being slowly poisoned by the toxic plastic: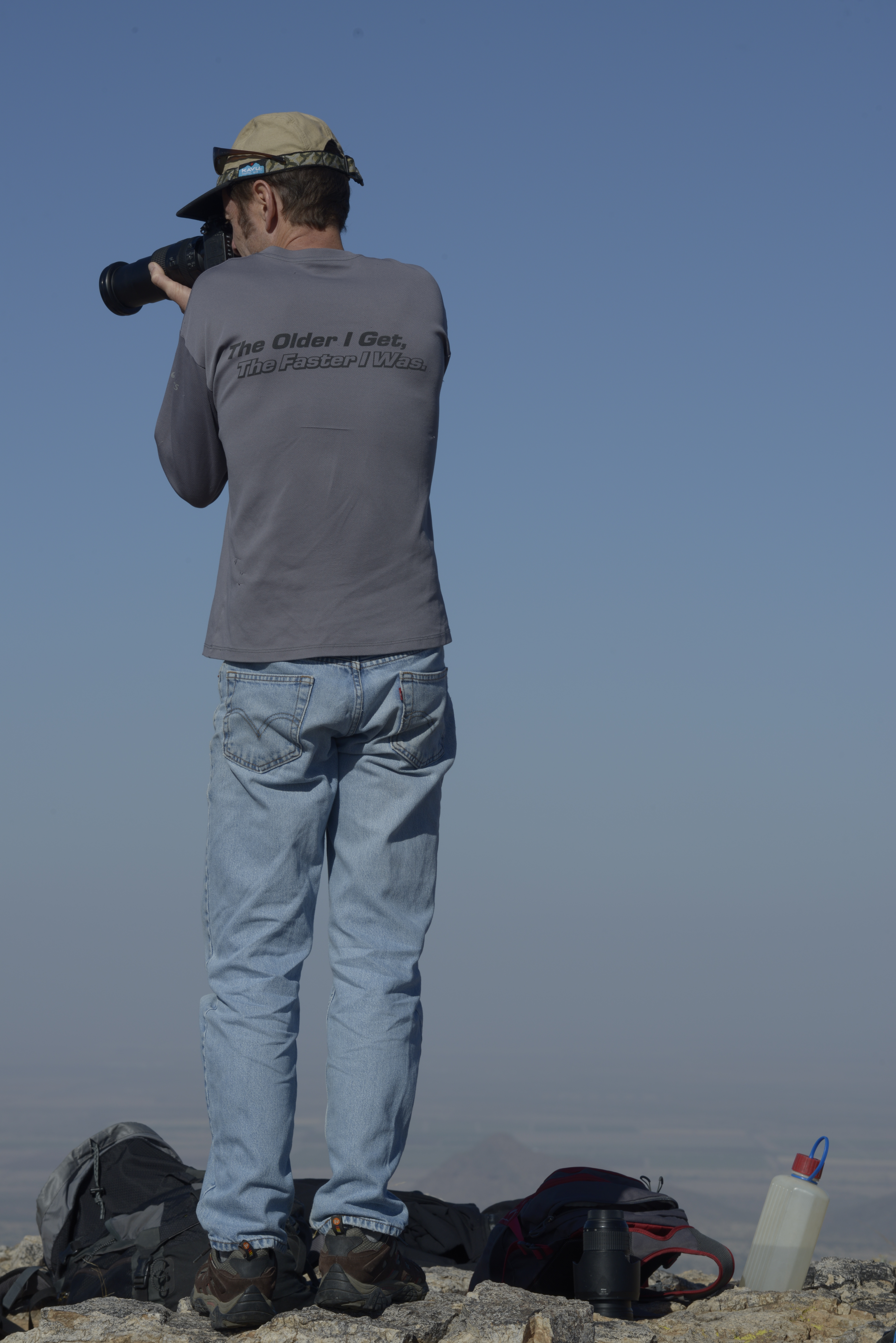 There are bighorn sheep somewhere in them thar hills. Not many, but they are indeed present–the only endemic herd left in Arizona and numbering maybe 75-100 sheep souls in total: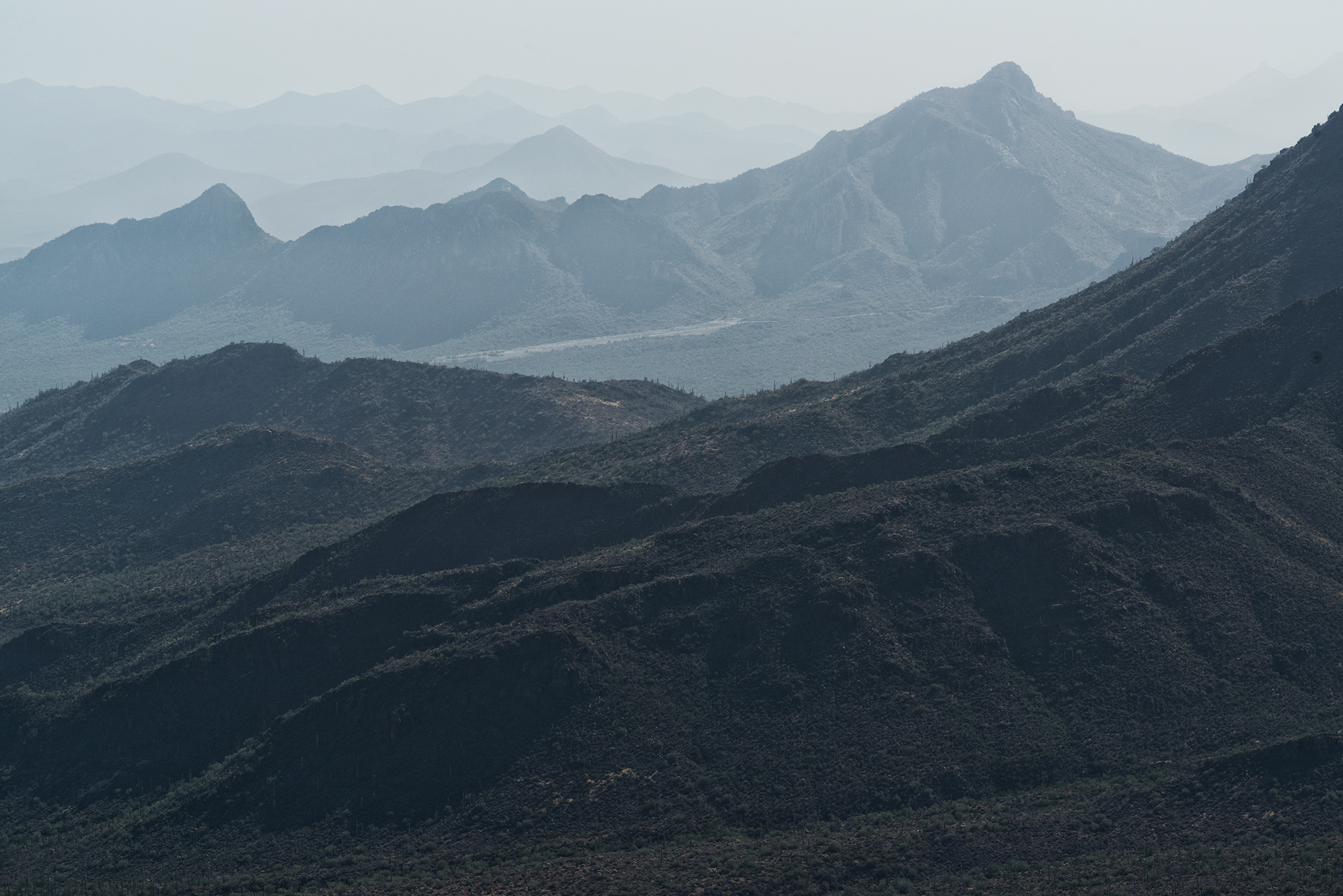 On the way down, the sun had moved a bit so I was able to get better images of the route: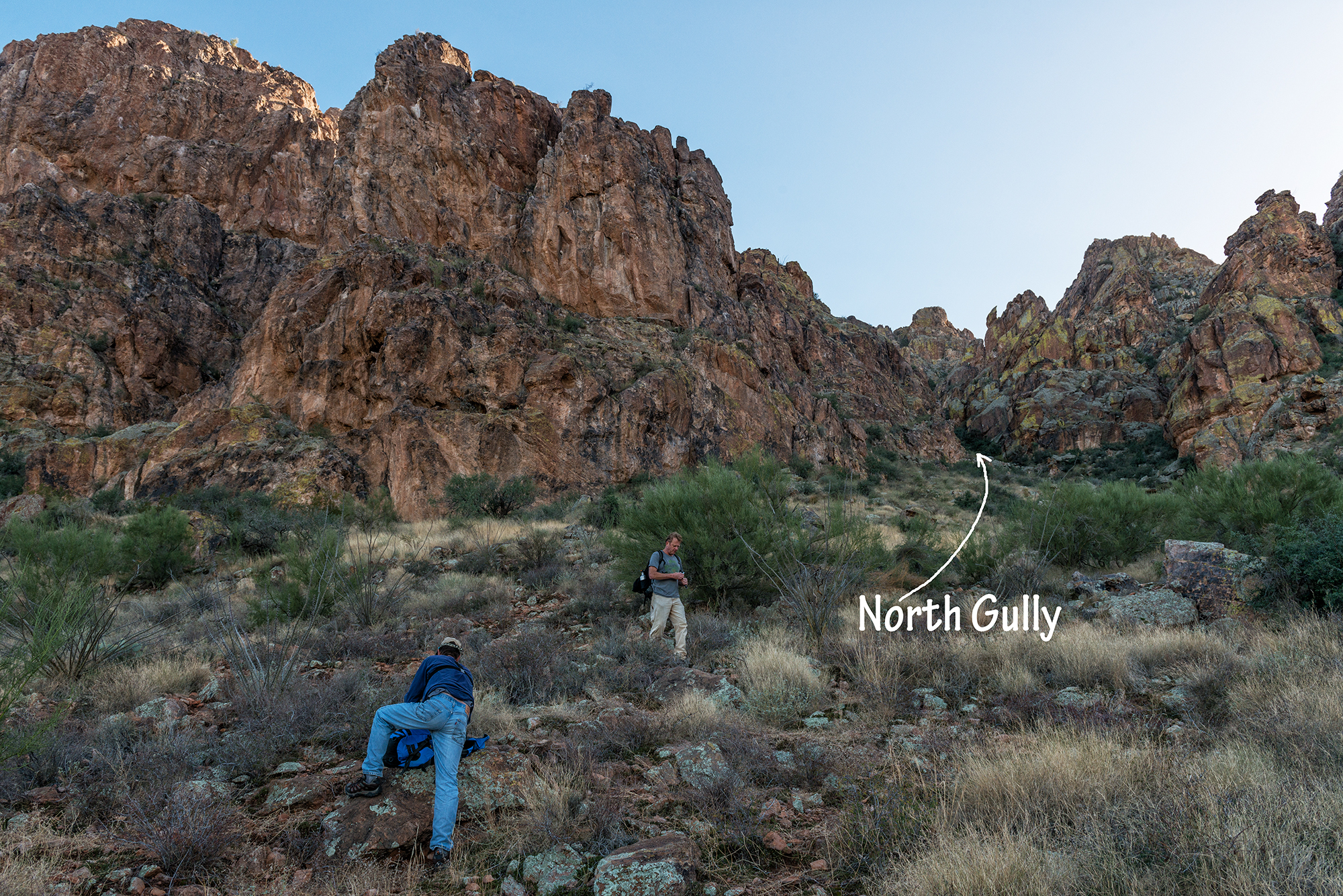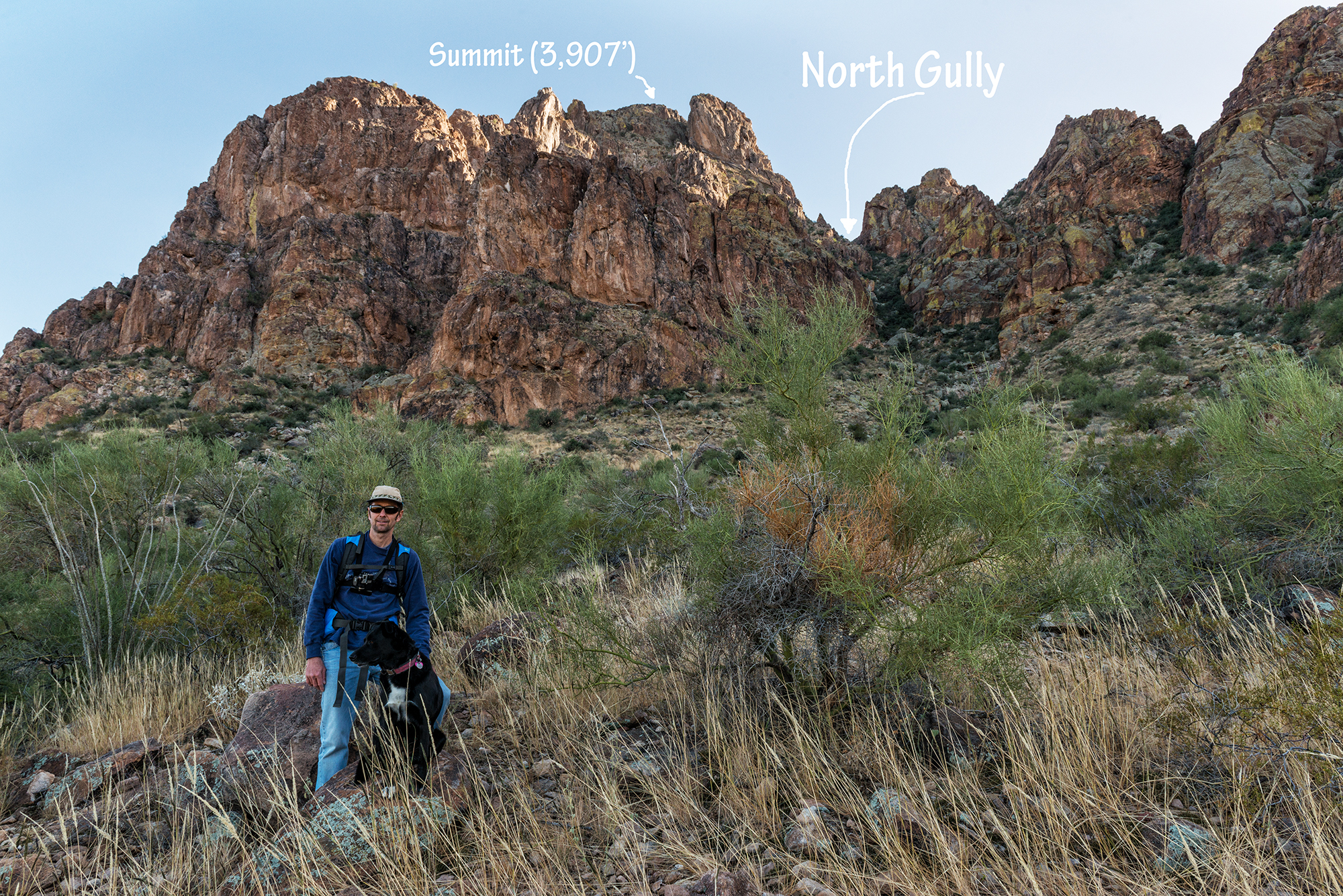 A closer look with the telephoto at 200mm. Take care working your way up and down all the loose rock: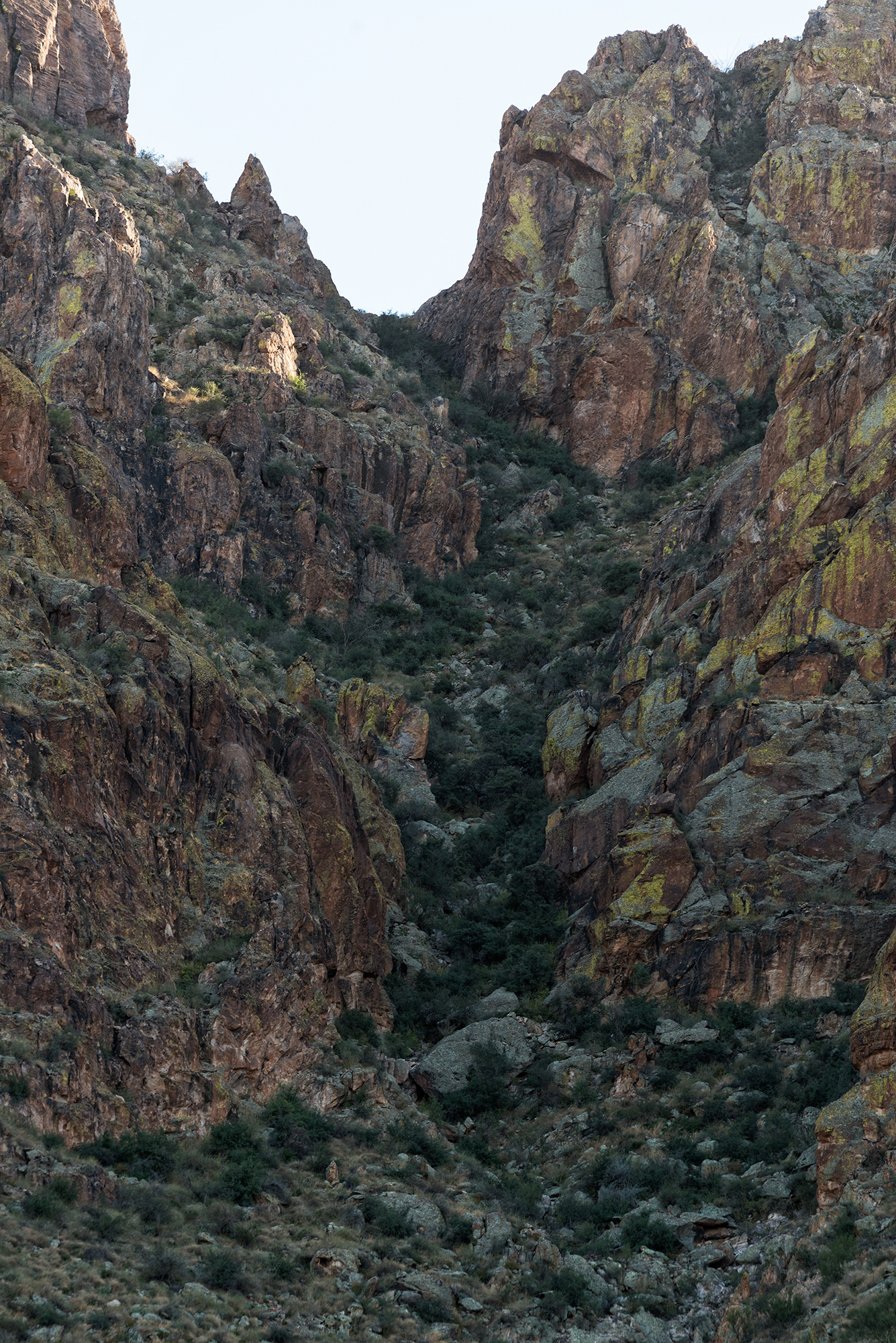 Looking through the haze and into the Silver Bell Mountains: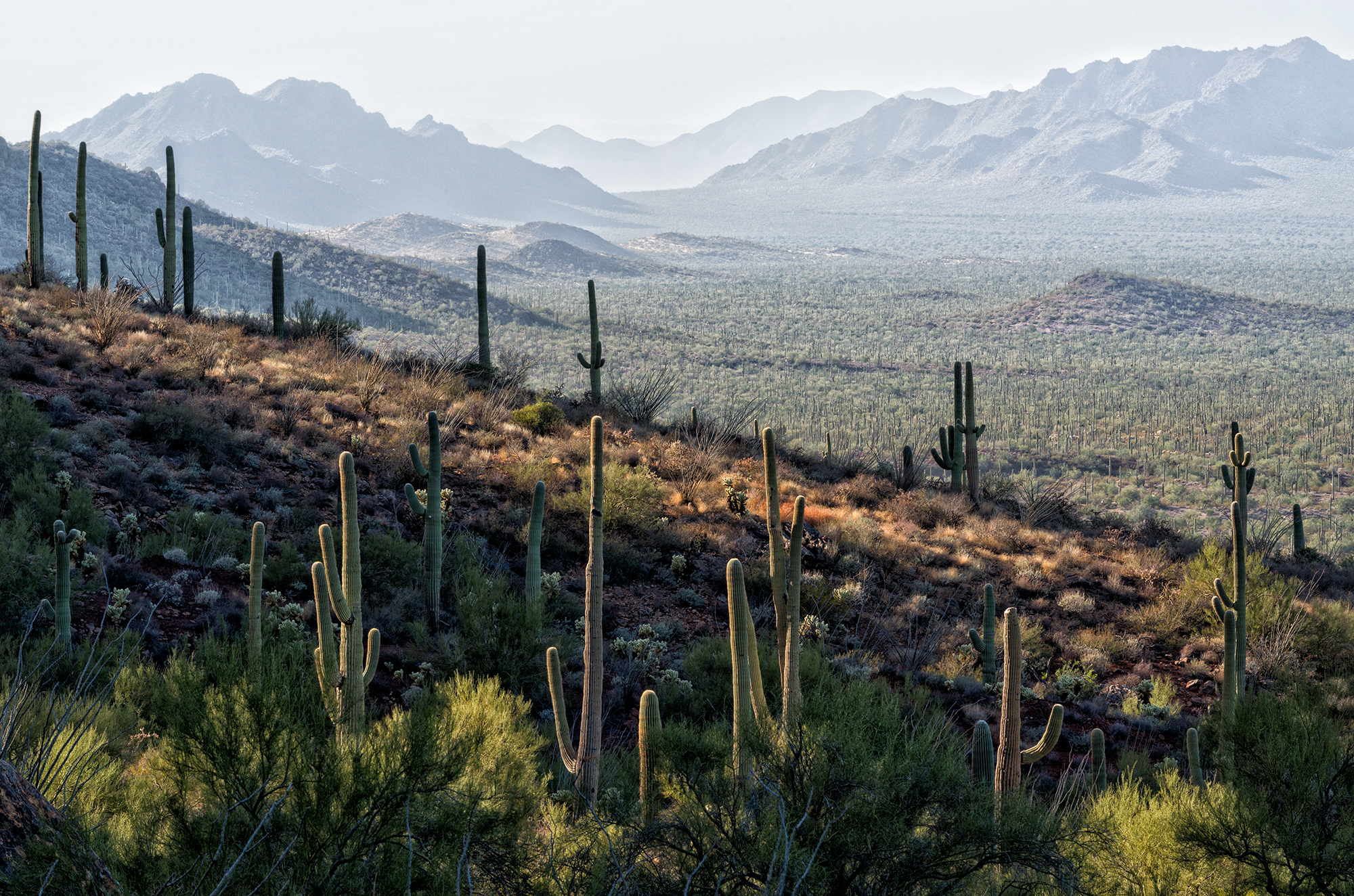 Saguaro detail: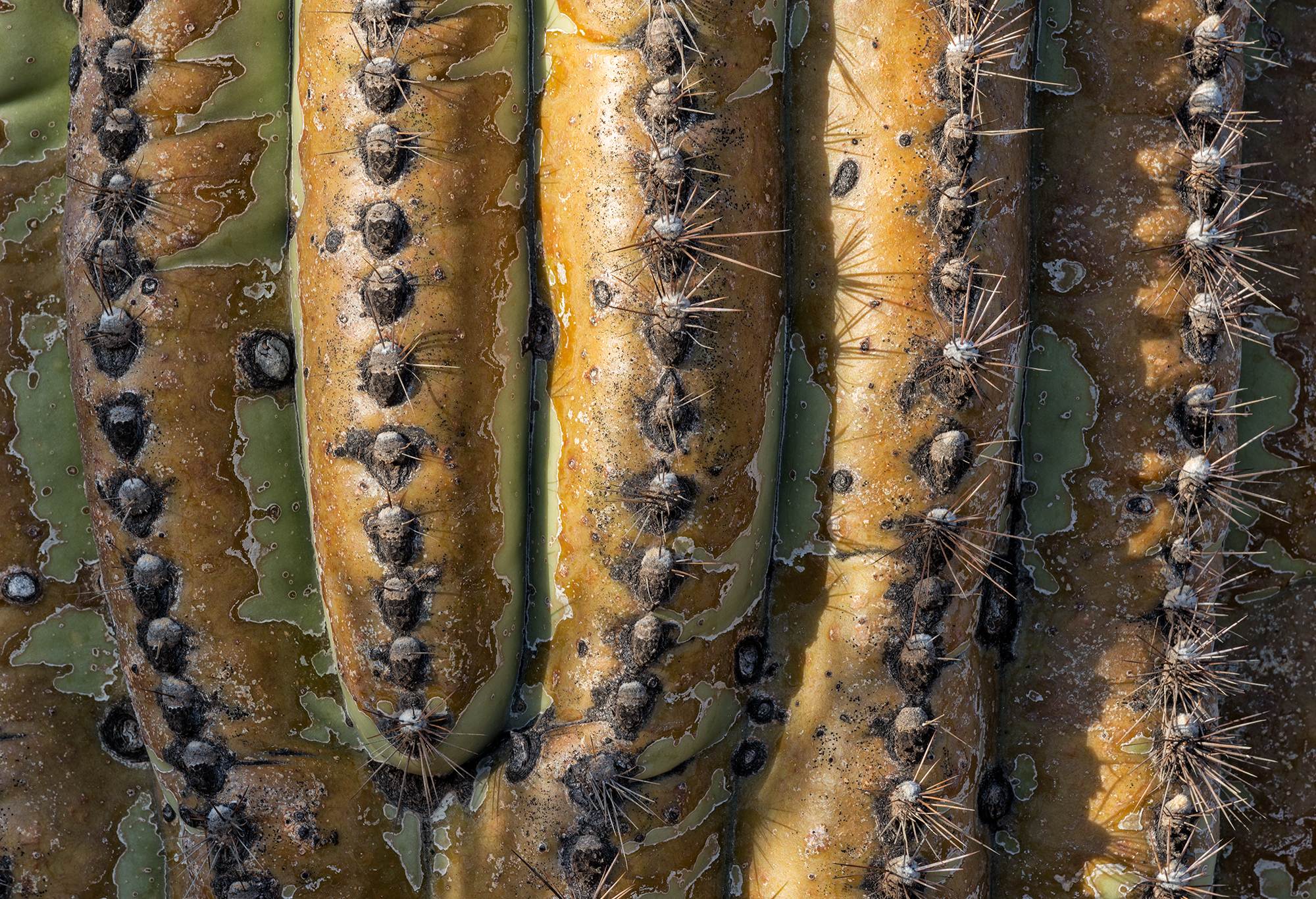 A nice sunburst as we come out of the shade of the mountain and the slope lessens. The North Gully is actually on the very far left (wide-angle lens distortion here). That main gully just left of center with the white debris slide is not what you want unless you are looking for a longer and more mysterious adventure: