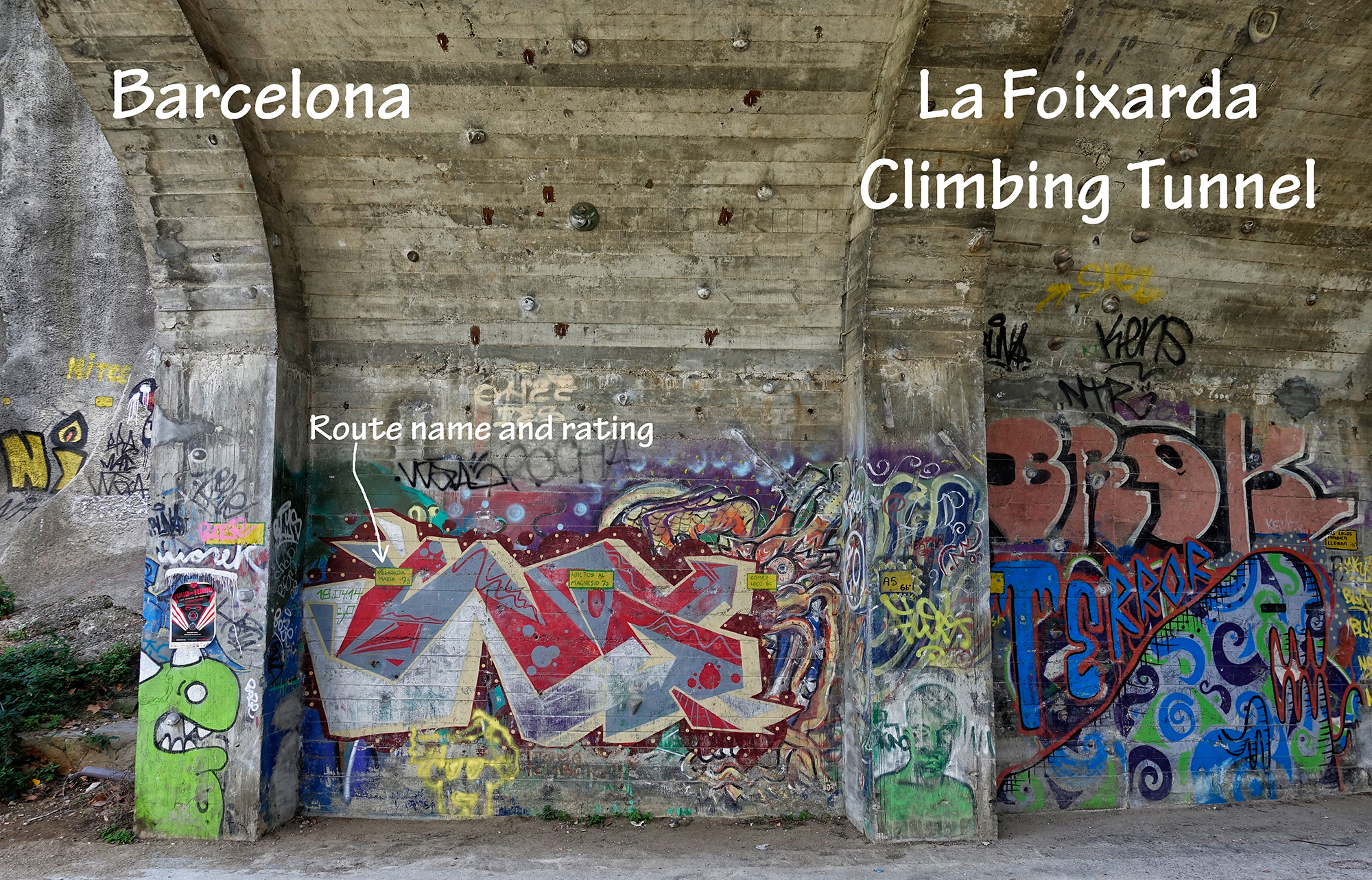 A climbing "tunnel", you ask with incredulity?
Yes, indeedy, a tunnel.
It is located on Montjuic, in the city of Barcelona, in what was once a stone quarry. In fact, the stone to build the famous Santa María del Mar church came from this same quarry way back in the 14th century. The tunnel was a late 20th century addition built to access the area which now also includes a very pro rugby pitch and an indoor climbing gym, Climbat.
In the late 1980s and early 1990s, before the 1992 Barcelona Olympic games, local climbers started to put up routes in the quarry walls as well as inside and on the ends of the concrete tunnel. In October of 2009, heavy rains caused a large collapse of the rock in the quarry, so the large sections of natural rock have been closed ever since.
Still, there is plenty here to play around on.
A few observations:
–It is pretty much all bouldering or sport climbing on very short (4 to 15 meters) routes. The low traverses are very popular and probably where you will start.
–You'll likely find climbers here at just about any hour and any day of the week. You may even run into a possible climbing partner for a run out to one of the many nearby local crags.
–Being a tunnel, you can hang out and climb here even in inclement weather.
–They say there are some 80-90 possible climbs in and just outside of the tunnel, from 5a (5.7) to as hard as you like. You'll find the route names and ratings in the little yellow squares here and there–if they haven't been eroded beyond recognition. From the yellow box, climb straight up to the apex of the curved roof, then lower off the anchors.
–Most of the longer routes just outside the tunnel are on the artificial Disney-like cement that was used to cap and control the unstable natural rock beneath. Here, you will find glued-on and bolted gym holds as well as holds chipped directly into the concrete.
–With the passage of many, many feet over the decades, you'll often find the holds polished down to a virtual verglas state–especially the foot holds on the low traverses along the 50-meter length of the tunnel. You will be using a lot more hand, finger and upper body than would normally be necessary otherwise.
–The "onda" is very grunge-urban with plenty of graffiti, the light noise of the passing traffic above, and the soundtrack beat from the odd portable boom box.
–For a completely different experience, try the Climbat climbing gym just a few hundred yards away on the same road.
For more… Click here for the photographic tour!