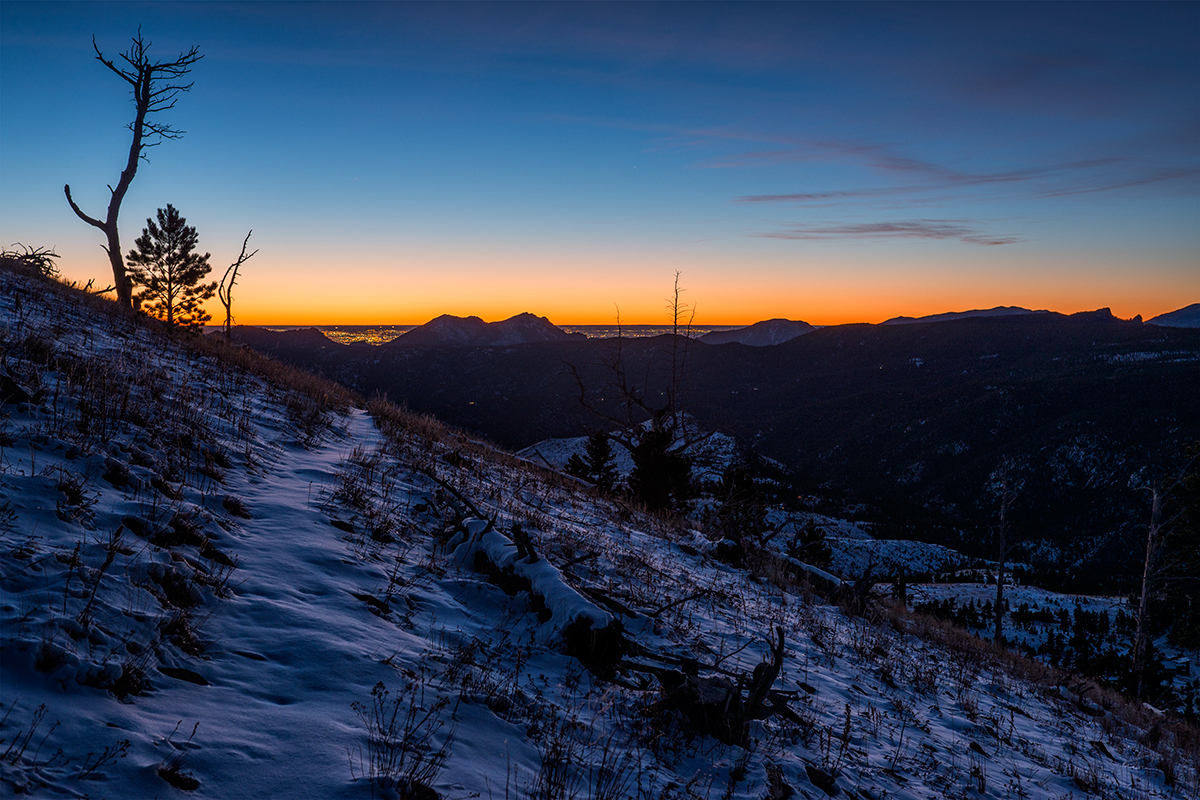 The above is what you get on a less-than-average winter day on Sugarloaf Mountain above Boulder. Not bad, but none of the morning's files were real "keepers" worth printing.
Sunrise with dead trees–too cliché…with insufficient unusual weather or light to bring them above the average level and out of the cliché wastebasket. (In the above image, another problem is the big black triangle on the right 2/3s of the picture with not much going on.)
I present this partly as sort of a baseline for your (and my) photography at that location.
Also…
Here is the principle: You won't really know what are truly good images from a particular place unless you go there repeatedly to see what is "normal". Eventually, you'll discover a sort of "baseline" scenic rating after visiting on a number of average days–then, when the light and conditions are exceptional, it becomes oh-so obvious. That's when you slip into "the zone" and really get to work with your eye, your instinct, and your shutter finger before conditions change.
There is also sort of a corollary to this principle: Looking at what other photographers worldwide are doing will give you an approximate "baseline" of where the current photographic frontier might stand–that is, what has been done and how well it has been done. This will help you recognize when you begin to produce work that goes beyond the baseline, begins to get personal. (Alas, though…moving beyond this frontier, while staying honest to your vision, is the forever challenge of photography!)
A few more "non-keepers" from this morning. Note the changing hue of the sky color as the sun comes up…