I would call La Modelo sort of the Alcatraz of Barcelona, and free public visits were recently offered as it is now out-of-date, closed, empty, eerie, haunted, and scheduled for a major gutting and/or demolition. So off we went.
Both Alcatraz and La Modelo (la Model in Catalan) are islands of a sort…the first surrounded by water, the latter surrounded by city. And both are historical icons for their respective cultures.
Alcatraz, however, only lasted 29 years or so and proved to be too expensive to operate for the relatively few number of convicts. La Modelo, on the other hand, was an enlightened (for the time) attempt to treat prisioners in a way that might lead to rehabilitation (imagine that!) and it stayed in business for 113 years. Despite the intentions, the Barcelona facility was certainly not always used in the most enlightened of ways as political prisoners were frequent guests.
And then there was the one in-house execution by garrote vil with which I now have a sort of personal connection. More on that with the images that follow below the break.
But, for all that, it really was supposed to be a "model prison", thus the name. Take a look at the design in the picture-of-a-picture above and note the six radiating wings which held prisoners, each wing dedicated to certain types of cons based on their characteristics and behavior. Especially note the tall tower in the middle. This was Jeremy Bentham's panopticon concept (late 18th centiry) brought to life. It was all about control, observation, and subjugation of all prisoners from that one central, elevated, point–the all-seeing eye.
La Modelo ceased operations just this past June and the air was still heavy with history and tragedy.
Here are a few photographs from our visit, along with commentary–including the story of my personal connection to that execution I mentioned. For the curious photog, all of these were handheld shots captured by the small Sony RX100iv, often at ISO 1600 when indoors…
Here you can see a couple of the wings from a patio perspective, looking toward the panoptican central tower:
Looking up at the panopticon tower:
A typical cell environment:
Another type of cell environment, this one from the early/mid 20th century and for the best prisoners:
This was the cell of an inmate nicknamed La Gilda, a homosexual arrested by the Franco regime. At the time, homosexuality was considered a mental disorder and there were attempts to "cure" such people. According to the exhibit, there were some 50,000 criminal proceedings taken against homosexuals during Franco's dictatorship, over half of which occurred in Barcelona. Franco died in 1975 but homosexuality was not decriminalized until 1979:
The exhibit included this set up of La Gilda's "treatment cell":
This guy was from a criminal family and suffered a variety of tragedies early in life, so a life of criminality was pretty hard to avoid. He started stealing cars at such a young age he reputedly could hardly reach the pedals. He became an expert thief, was a cocaine and heroin addict, then a prison uprising and escape organizer, finally dying of cirrhosis at the age of 42 (AIDS, perhaps?). Near the end of his life he did quit the drugs, studied law, and even wrote his autobiography. Several films were made of his colorful but sad life. "Vaquilla" translates as "heifer", but a better sense in English might be "young bull":
OK, this is where a personal connection to history and the garrote vil come into play. In 1974, my wife, María Rosa, was friends with one of Salvador Puig Antich's sisters, Mercè. María Rosa, then a 16-year-old girl, would accompany Mercè on visits to see her older brother at La Modelo, the sister bringing cigarettes and news from the outside, as María Rosa waited in the courtyard. This is the cell where he spent his last few days of his life. Puig Antich was finally executed by the garrote vil in the mail room of La Modelo–and it apparently didn't work on him quite as advertised as he spent the last 20 minutes of his life in agony. He was just 25 years old. Whether Puig Antich deserved this fate or not is a matter of debate. There is no doubt he was intimately involved with the extreme anti-Franco crowd (the Iberian Liberation Movement, to be specific). Indeed, he was present at one particular robbery in which a policeman was killed, although he probably did not commit the actual murder. The execution was almost certainly politically motivated and an act of revenge by Francisco Franco. This was the last time the gorrote vil was used in Spain and Franco would die the following year, after nearly 40 years in power, paving the way for an eventual transition to democracy:
This is a view of the mail room where Salvador Puig Antich was executed. The light shines on the spot where the garotte chair was placed. La Modelo was not really the site of executions (the firing squad up by the walls of Montjuic Castle was the location of preference). In this case, prison officials did what they could to carry out Franco's orders, converting the paquetería into an execution chamber…perhaps lending an aweful new meaning to the word "package", referring to inanimate things brought in and out of this space:
On this day, tourists, local visitors, women with babies in strollers–and my wife and I–wandered the various wings of La Modelo. The sound system above us piped in the recorded sounds of the old prison–voices, shouts, doors clanging shut, banging on bars, echoes, and so on:
The shower rooms:
Typical cell facilities:
The library and the barber shop: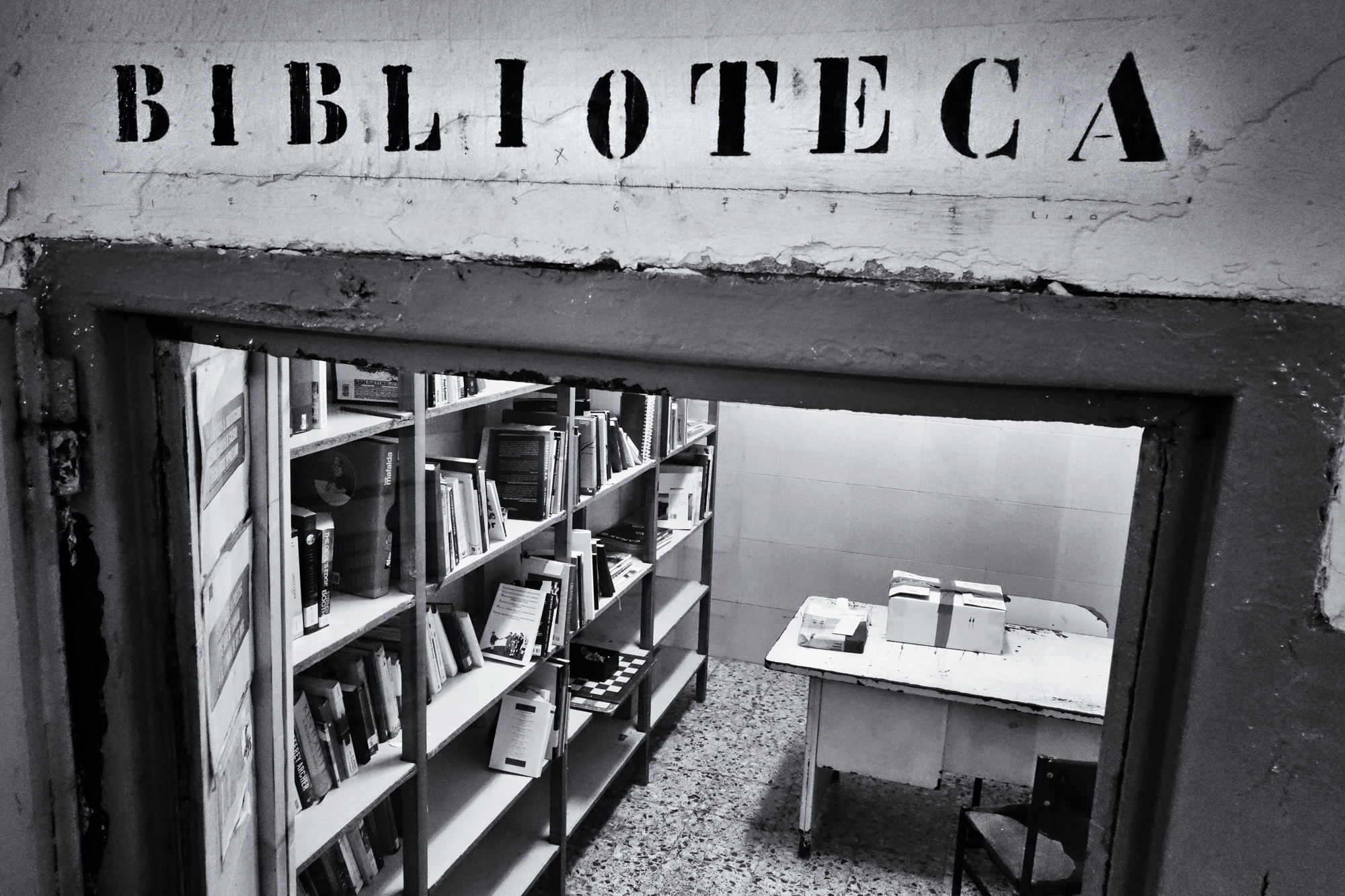 La Modelo, #16, Barcelona, 2017
In this section of one of the wings, partial deconstruction has already taken place. Bugaderia is the Catalan word for lavandería, the laundry room (washetería, if you are in Texas):
The photographer at one of the entry doors:
This is where family members met with their incarcerated loved one. Somewhere in here, Mercè met with her condemned brother, Salvador Puig Antich. Two 20-minute visits per week were apparently allowed:
Outside, on one of the patios, the walls of the prison rise above:
I suppose it would have been quite easy for passersby to simply toss a hacksaw or knife over the walls of the prison–thus the nets and barbed wire over critical areas of the courtyards:
A lone palm tree…and the large stump of another inside the circular structure:
The telephone bank:
Reflections from an outside exhibit kiosk gives the prison walls a bit of an abstract look:
"The Modelo Speaks To Us", says the exhibit banner. A rough translation of the text: "During its 113 years of existence, the Model Prison has been a reflection of the history of Barcelona and of Catalunya. Now that it stands empty, the Department of Justice of the Government of Catalunya offers its citizens a visit to some of its most emblematic spaces, recalling some of the moments that marked its past, with the objective of cementing this record into our collective historical memory.":
---
---
You might also like
---