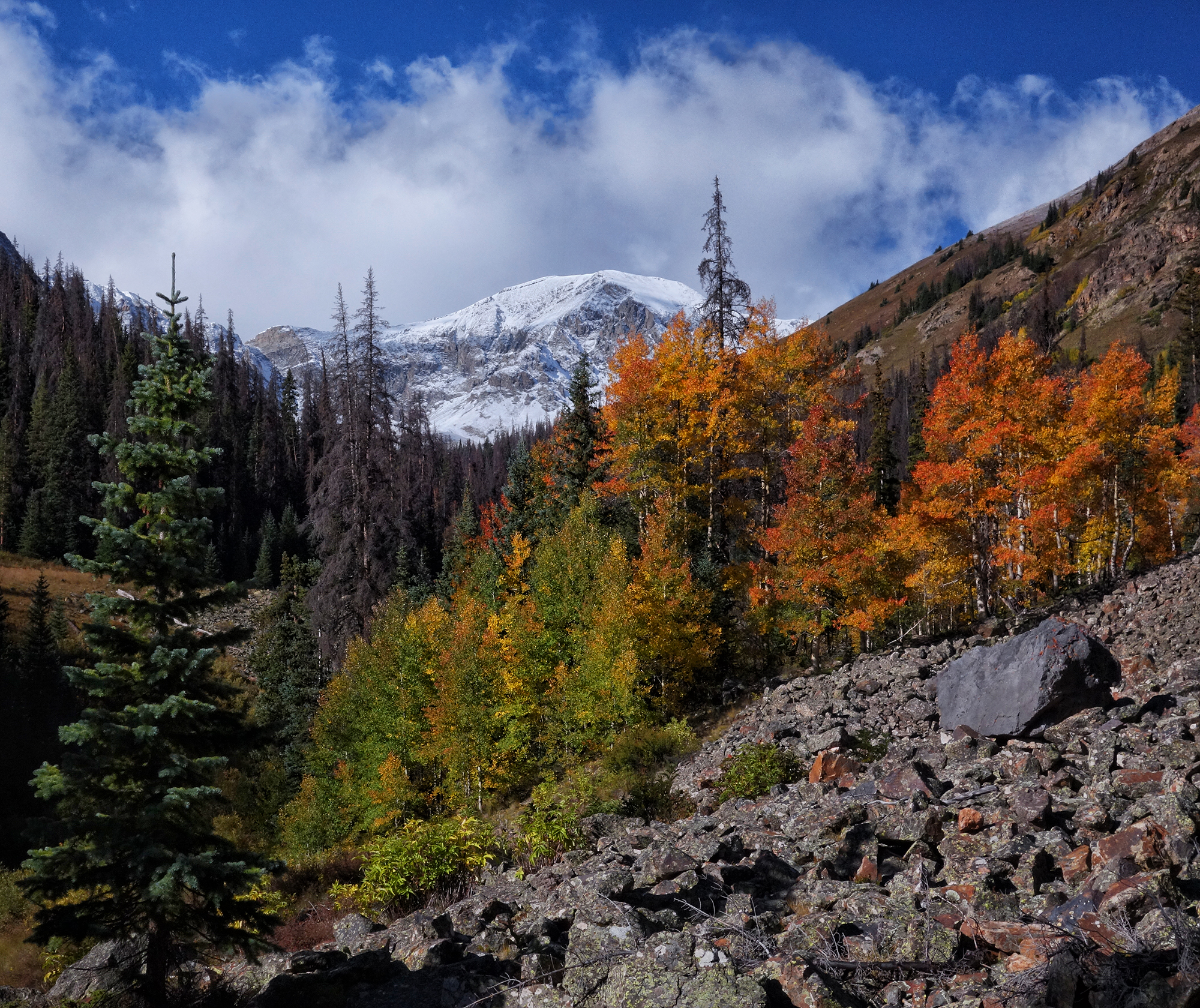 "Memories made in the mountains stay in our hearts forever."
–Anon
With a pending move to Barcelona this year, I thought I might get motivated and finish the basic list of 58 14ers this year but, alas, 'twas not to be. Rock climbing seemed to be the outdoor priority for me this year. So, I guess I'll be back from Spain for a month or two next year with the remaining 14ers in my sights! Who wants to join me?
This particular trip up Handies (and the one to follow, up Uncompahgre) was special in that I was able to team up with a very close friend from way, way, waaay back in junior high and high school days–Rik Fritz. In fact, he called me up and got me going back to the big mountains on this trip instead of the local rock climbing crag.
Rik is an amazing guy and really needs to write a book about his exploits with rattlesnakes, on Yosemite big walls, on long, high altitude, cross country flights in his hang glider, and on his seriously salty sailing adventures. He is definitely a man who has lived life to the fullest–and continues to do so. (See my near-death blog post from June 27, 2017, "The Fall" to catch a bit of what I mean.)
It was great to catch up with him and talk about all that "Back In The Day" stuff! Ahhh…the stories…the stories…and all included at least 10% truth!
Our initial goal for the 3-4 days we had available was to haul our fannies up Sneffels, Uncompahgre, and Wetterhorn, starting with the Class 3 scrambling route on this last one, "Weather Peak". Handies wasn't even on the list. But, ah, the best laid plans…In mid-to-late September in the Colorado Rockies, weather can be tricky and fickle pickle, as we quickly discovered.
A pounding, hours-long, cold rainstorm the night before–as we camped at the Wetterhorn/Matterhorn Trailhead–made us rethink things. There would surely be snow above and, sure enough, morning revealed a heavy coating on the high peaks tapering off finally at about treeline. Hmmm…best not to do exposed Class 3 scrambling on icy and snowy rock without the proper gear and attitude, we both said. So, instead of Wetterhorn, off to Handies we bounced in our 4×4 pickups–Handies would be a much easier peak, even with a wet, white blanket o' schnee.
What follows, then, is what eventually transpired, to the best of my sometimes-faulty recollection, along with my usual merry montage of inspiring images…