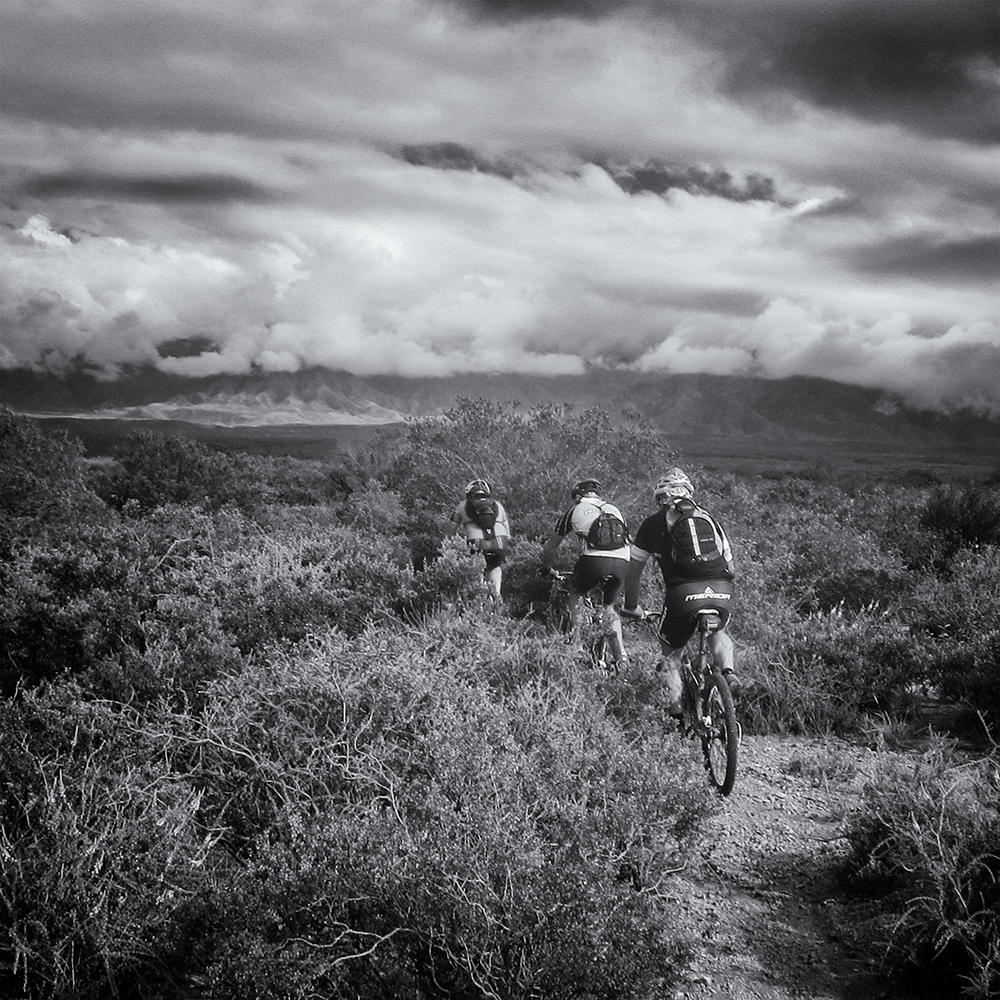 Due to security concerns (bicycle thefts), our old mountain biking stomping grounds uphill from Cerro de la Gloria and  in the Divisadero Largo area are not much used anymore. Too, bad, as there were and are some great trails up there.
The current hot zone is in an area known as Chacras, just south of town. Specifically, you'll find the MTB crowd parked at Kilometer 11 of the Panamerican highway and riding off to the west, uphill, and onto some 70 kilometers of single track. Most everything is technically very easy (or maybe intermediate level) with only a very few more challenging sections. Like most mountain biking along the east side of the Cordillera de los Andes, you'll find yourself going uphill on the way out and zinging downhill on the return. (How do you tell a happy cyclist? Bugs in his/her teeth!)
Ease of access and the fun trails here have caused a little mini-explosion in the popularity of the bici todo terreno within the last few years. Many more women are involved now, too. Back in the late 90s I counted exactly two, maybe three, active female mountain bike riders in Mendoza. Now there are large groups of women heading out on fat tires on the weekends. Nice to see the sport grow like that. Road cycling here doesn't seem to have grown quite in this way, although there are still plenty of groups out dodging the potholes and traffic, and touring the vineyards, on weekends.
Cycling–both mountain and road–is big in certain areas of Argentina. (Track cycling in Buenos Aires–look up Juan and Gabriel Curuchet, and Walter Pérez.) If you follow pro road cycling, you may have even heard of the Tour of San Luis (just north of Mendoza) the biggest stage race in this country that currently draws the top pros for some early season miles. The Vuelta a Mendoza (still active, and a 10-day stage race I survived in 1997) was also once nearly of that caliber…as was the Vuelta a la Argentina (last edition in 2000).
On this trip…a big thanks to coach and friend Armando Mulle who managed to find a mountain bike for me. I had brought my pedals, clothes and helmet (just in case, dontcha know!) so off we went to Chacras to check out the trails, damp from recent rains…a familiar Arizona-like smell of wet creosote hanging in the air (above image)…and then, later in the week and after the sun came out, a tour through the vineyards (below).